One of our clients called this am to check on her order.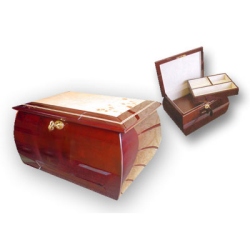 It's been almost a year since her father died and she's finally ready to select an urn to take to her mother. Her dad's ashes have been in a cardboard container in his daughter's possession. Her mom has been unsure what to do with the ashes and felt that keeping them in the home might be too morbid…but didn't want to bury. His room and personal effects are still the way he left them when he departed this world.
Her father had been a wood worker and liked to restore antiques. He loved the rich color of mahogany and liked to work with the burl species of wood. The daughter decided that our memorial chest would be the perfect resting place, discreetly on the dresser until the family decides what the next step will be.