Timeless Symbols of Protection:
In many cultures, the horn is believed to be the symbol of life and eternity. In ancient Italy the horn charm or amulet was worn in as protection against evil spirits and has also been linked to Celtic and Druid myths and beliefs. In pre-Christian Europe, animal horns pointed to the moon goddess and were considered sacred.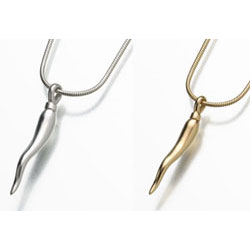 The Italian Horn urn necklace is available in sterling silver or a high quality gold plate and comes with silk cord or we've got chains that are optional.
The fish symbol is representative of the Christian faith and has ancient roots in the Celtic and Druid culture. This discreet urn pendant holds a trace amount of ash, flowers, hair, or other small memento. Available in sterling silver and gold.