For Funeral Directors that worry about competition from Costco, internet retailers, and maybe even Wal-Mart. Remember, it's all been done before.
Vintage Sears Catalog: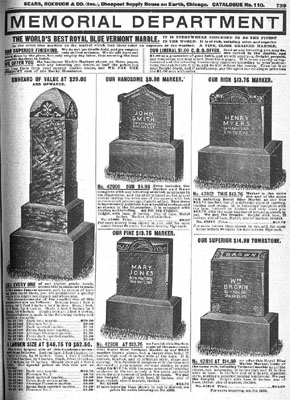 At the turn of the 19th century, budding retailers Richard Warren Sears and Alvah Curtis Roebuck breathed new life into a stagnant funeral industry by introducing mail order funeral products. Before this time, extravagant monuments, gravestones and similar goods were only afforded to the affluent and wealthy.
But they had a plan. Since their regular merchandise catalog was growing in popularity, they wanted to expand into a market that everyday working people would need. Sears, Roebuck & Co started selling marble tombstones, monuments, tablets and markers at half the cost of traditional funeral parlors and monument makers.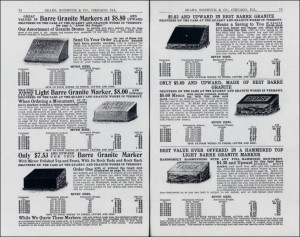 At its inception, Sears' "Monuments & Tombstones" catalog offered markers starting at $4.88 and tombstones at $7.40, making them extremely affordable. The products were manufactured and shipped from Vermont in about four to six weeks.
What's amazing about these funeral products is the craftsmanship. Though these were obviously designed by hand, the graphics are so meticulous. Customers had several varieties from which to choose including hearts, shamrocks, religious symbols and even Heaven's gates. The block lettering was simple and elegant.
Speaking of craftsmanship they appealed to the Woodmen of the World members to honor the brotherhood with a Sears Monument. You may have seen the tree trunk style stones at the cemetery.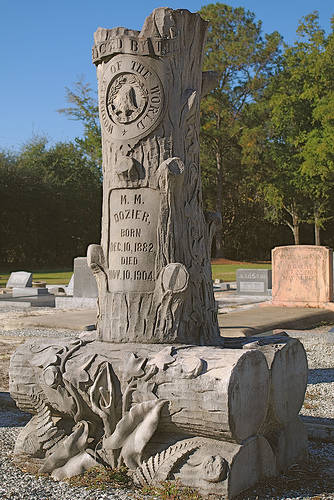 Unfortunately, just as the regular Sears catalog went defunct, so did the "Monuments & Tombstones" publication. By the early 1900s, Montgomery Ward also started selling funeral products via mail order too, but with a better payment plan than Sears.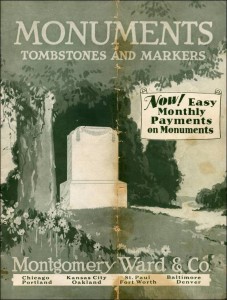 Within a few years, as the United States entered World War I and subsequently World War II, mail order sales dropped significantly. In 1952, the catalog ceased publication.
Nonetheless, the advent of the Internet gave rebirth to mail order funeral products. Today, there are an endless number of websites that have urns for sale, headstones, caskets, funeral keepsakes, and memorial jewelry at a fraction of the cost at local funeral suppliers.