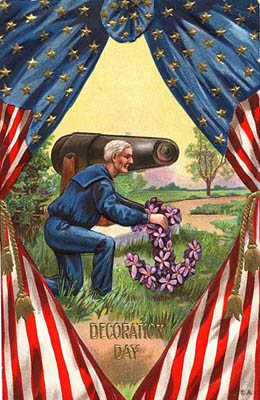 This is the first year that we did not decorate graves of our friends and family at the cemetery. Usually on Memorial Day, I take Etta out to the White Chapel Cemetery. Yesterday, I asked her if she felt guilty about not going. She said she didn't. She'd just try to do better through the year.
This is also the first year in a long time that she didn't go back to her home state of Oklahoma for her high-school reunion.
When we were younger, rain or shine, Memorial Day was always a big party, and we worked in the tradition of honoring the dead. Since the death of his mother, my husband has never wanted to go back. Since we're not Keith Richards and we don't party like we used to, Memorial Day is kind of quiet around here. It's been stormy which has put a damper on some of the bar-b-cues. At least we missed the killer tornadoes. This morning's trivia question on the local news was, "What was the original name of Memorial Day?" The anchors were stumped. They "knew it but couldn't remember."
I've known some older people that make a day of decorating the graves over the holiday. Picnics and tail gate parties at the cemetery. As we move away from this ritual, it feels so "Civil War". But I do miss going, the cemetery is lovely, and White Chapel Memorial Garden has the Walk of Flags that is so moving.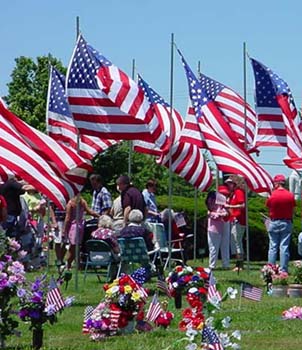 White Chapel Memorial Gardens 2004