On a recent undercover assignment in the WORLD of the living, we attended our first staff meeting in three years. Scheduled at 3 PM, we burned two precious hours on attendance, and determining the color khaki.
Not Stone. Khaki.
In my other world, we're a small company.
Lately, our meetings haven't been as productive.
The best part? Morning staff meetings on the lawn with Me, Myself and I.
"Present!"
Meet our Advisory Team: Shad and Rock.
"Present!"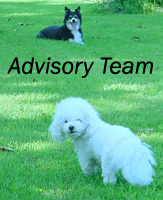 Me: This morning's agenda….
A-Team: Let's play ball!
Me: That sounds good, but let's get serious a minute and think!
A-Team: About?
Me: Cash Flow, streamline distribution….my next great idea.
A-Team: We'd rather sniff a pole.