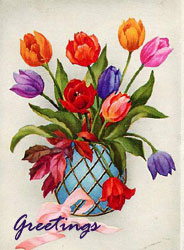 Three Beautiful Things:
Venus in the Western sky (check it out)
The Masters
Easter Brunch
Praise to the Holley family in San Diego for lobbying to change the Defense Dept's policy on returning our dead soldiers. The Holley's were horrified to discover that the body of their son would be returned to like a piece of luggage.
"My wife and I could have said nothing. We got what we wanted for Matthew and our family, but just being quiet wouldn't be right when other people are going through the same thing." he added. "Not enough is being done for these guys. A war hero returns to San Diego and it's a blip on the news before people forget. These people need to be honored."
In China, just as in the US, it's getting too expensive to die. Last Thursday was the was the annual tomb sweeping ceremony, but state media said soaring funeral costs were leading to people complaining they can no longer afford to die, Reuters reports. In Beijing and Shanghai, a proper send-off can cost between 10,000 and 20,000 yuan ( US $1,300-$2,600), Xinhua news agency said. Funerals for family members cost the average Beijing resident three months' salary. "Funeral costs have surged from hundreds of yuan in the 1980s to tens of thousands of yuan. I'm afraid I cannot afford my own death," the report quoted 89-year-old Li Chengxian as saying.
For decades after the 1949 Communist takeover, China forbade burials in order to conserve badly needed land and insisted instead on cremations. The rule was poorly enforced in its vast countryside, though, and now has effectively been abandoned. Earlier this week China announced it was to outlaw the trade in tomb futures — speculating on the business of selling graves — after it bankrupted many investors, as the government steps up regulations on a lucrative but poorly regulated industry.
Funeral providers rarely charge for services but make money by marking up the cost of products, sometimes as much as 20 times the original price, and mourning relatives are loath to bargain, Xinhua said. In some areas the cost of a grave per square meter can be twice as much as an apartment. An official at the Civil Affairs Ministry criticized the practice of some cemetery owners of setting up special graveyards that offer "oversized and luxurious graves", Xinhua said in a separate report. "It's a severe violation of China's funeral regulations and a waste of land resources," it quoted the official as saying.
Some tomb owners also encroach on farmland by building groups of tombs for family members and ancestors who want to be reunited in the afterworld, the official said, condemning the practice as "outdated and superstitious".
Tomb Sweeping, known as Ching Ming is held on the 106th day after winter solstice, and usually occurs on April 4 or 5. and is a major public festival that is generally treated as an official holiday in China, Hong Kong and Taiwan. It is considered unlucky to conduct business on this day, and as a result many businesses will be closed and business leaders unavailable. Government agencies, banks and schools are generally closed. Traffic may be heavy and public transportation crowded, especially in areas near cemeteries. The transit system provides extra service to accommodate the crowds
Visiting the cemetery is referred to as hang san (walking the mountain). A series of activities clearing the grave site of dirt and debris, weeding around the site, and repainting inscriptions on the gravestone are together referred to as "sweeping" the grave. Wine and a variety of foods may be placed around the grave site (along with appropriate tableware such as glasses and chopsticks) as offerings to the spirit of the deceased. Eating the food that was offered to the deceased is considered good luck. Paper money is burned for use in the afterlife, candles are lit, and family members bow and kneel in respect. Many of today's offerings may be simple, consisting of incense, paper money and flowers. Families may also set off firecrackers to drive evil spirits away from the grave.
Today's tip: Study the I Ching