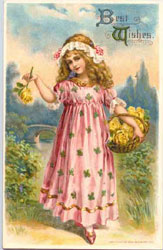 Greetings!
Sowed a little seed today and ran a mental checklist of all the frustrations we've been feeling this week….realized that almost all the consternation was self created. What to do. Hmmm.
We love poppies, blood red oriental poppies. Ancient Egyptians placed garlands of poppies on mummies and the Greeks crowned their dead with the flower. Legend has it that in Europe, poppies sprang up on battlefields from the blood of slain soldiers. Poppies symbolize consolation, sleep, and rest in the Victorian language of flowers and was commonly used to memorialize the dead.
Speaking of sleeping, dreams were alive with mice last night. Very disturbing slumber. A former co-worker swore she could smell a mouse in the house. That dream was so vivid I could smell it today.
Speaking of smelling rats, this is why Dirtsister keeps it on the down low in the Show Me State. For the record, most of our business is East, West Coast and Canada.
Missouri funeral regulators have agreed to settle antitrust charges by the Federal Trade Commission and stop impeding the sale of caskets and other funeral merchandise by non-licensed funeral directors, the Kansas City Star reports. A 1965 state law has long allowed such sales but in 2005 the Missouri State Board of Embalmers and Funeral Directors cracked down on a rural Missouri casket seller who, the board alleged, was providing licensed funeral services in violation of board regulations that clearly barred the sale or rental of "funeral merchandise. The state board sued Larry Gegner of Buffalo, Mo., but last year agreed to a consent order in Dallas County Circuit Court that clarified his legal right to sell caskets and dispense free advice to the public on how to cut funeral and burial costs. The national Funeral Consumers Alliance and the Virginia based-Institute for Justice that represented Gegner later persuaded the board to amend its regulations. The FTC announced the agreement today. Under the settlement, the board will not adopt such anticompetitive regulations in the future, the FTC said. The agreement with the FTC was a product of extensive discussion and clearly provides that the board has not been found in violation of any state or federal law, said board chairman Kenneth McGhee in a prepared statement. Our goal is to ensure Missourians make informed decisions when organizing final arrangements for their loved ones. The state's six-member regulatory board includes five funeral directors.
At issue in this case was whether Larry Gegner a consumer advocate from Buffalo, Mo., who has spent the better part of his life selling caskets and teaching consumers about the often-inflated costs associated with burials could share his knowledge.
Larry's argument was straightforward: people should have the right to teach and learn about something so important as how to bury a family member without getting ripped off by the funeral cartel.
Today's tat memorial: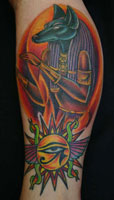 Today's tip for better living: Arm yourself… with information.