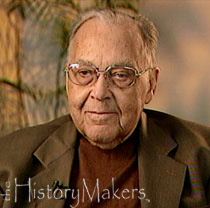 Last month I had the television on and in the background was a documentary on the boxer, Joe Louis. I snapped to attention at the mention of Louis' attorney, Truman K. Gibson Jr. Honestly, I'm sad to say that I'd never heard of Gibson, until 2006, when his grand daughter called from D.C. to order his urn.
At the close of the conversation, she told me that me that this great man had a hand in making history and his name was Truman Gibson. She invited me to look him up.
I did.
And was blown away.
And honored.
Brief Highlights:
Black Cabinet: a Chicago attorney who had been the last surviving member of the World War II-era "black Cabinet" of Presidents Franklin D. Roosevelt and Harry S Truman.
Racial Covenants: Mr. Gibson was a member of the legal team that challenged a restrictive racial covenant prohibiting African Americans from living in the Washington Park area of the South Side. He spent months poring over property deeds to build the factual basis for the U.S. Supreme Court case that overturned the covenant. The plaintiff was black real-estate developer Carl Hansberry, whose daughter Lorraine would use the experience as inspiration for her 1959 Pulitzer Prize-winning play "A Raisin in the Sun."
Army Racial Segregation: With the outbreak of war in Europe and the increasing likelihood that the United States would be drawn in, the Roosevelt administration sought to answer the growing outcry from black Americans over the segregated military and the second-class support status of African Americans in the military. Mr. Gibson played an influential role in finally convincing the Army that it had to commit African-American troops to battle. Most notably, the black 92nd Infantry Division was thrown against the heavily fortified German Gothic Line in northern Italy in early 1945 in a terrible bloodletting that remains a source of controversy.
Thank you Truman Gibson.