Recently, we had a customer who needed to buy an urn. He had just lost his partner of 37 years and was on a limited disability income and wanted a beautiful work of art to honor his love for not much money. The plan was that later on, the urn would be buried near the graves of his parents. We helped him pick out a beautiful memorial created by one of our local artists who does pottery and ceramic work. The jar was a gorgeous Raku fired creation with copper flashing and a creamy crackled, some call it horse hair finish on the finial topped lid. While shopping, he was heard to say "uh, oh I dropped my Ipad". Luckily, it was on the carpet and the device recovered nicely.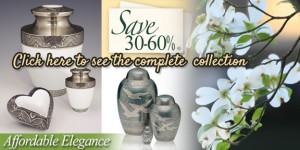 It's really not that complicated, but if you need to buy an urn; first of all, I'm so sorry that you are having to shop for this purpose today. What is your timeline like? After you get your selection narrowed down, you can either complete the checkout process online and select your method of shipping. We offer fast and free shipping through Fed Ex and USPS, but if you need a speedier service, we can expedite your order if you let us know when you need it by.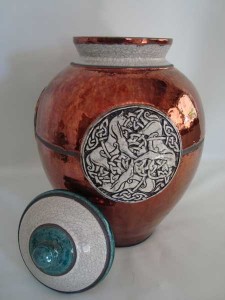 This client was expecting a photographer to stop by to shoot his dog for the cover of a dog enthusiast magazine. The dog was a Royal Standard Poodle from a champion bloodline. The dog was close to the the man who had died, but rarely went in his room. After the owners death, that's the only place the dog could be found was in his room for the last couple of weeks. Kind of like the dog was waiting for the master's return.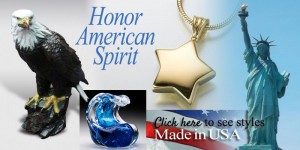 Like we always say, we try not to be slaves to our own tastes, but the pottery styles are a favorite. We got hooked on roadside pottery back in the day, when on the short drive to the lake, you would see houses and tourist attractions with colorful concrete vases and statuary for sale. Some roadside stands had the chenille bedspreads, and wood crafts.
Later in life, we connected with a husband and wife team that creates some of the most beautiful designs inspired by nature and ancient designs. They specialize in the Raku technique and using the most common elements: earth and fire, they create a memorial for you with compassion and care. We're honored not only to serve families in their darkest hour but also to help support American artists and their families.