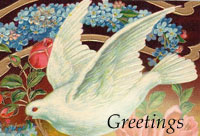 The title of this post comes from this haunting story. Our hearts go out to the family, co-workers and community. By appearances, John Winter was living the dream, and it wasn't enough. Suicide is a mystery. But so is day to day living.
Although we are not doctors, we have played one on t.v. We diagnosed and classified "Storm team" personalities as either "partly cloudy" or "partly sunny" personalities types.
Since it's arts fest weekend, we'll showcase our last collection of vintage mourning jewelry. This group features skulls, a popular theme in early English designs from the 15th and 16th centuries.
The Death's Head motif (skull) was still used on mourning rings in the 17th century. A ring presented after the execution of Charles I in 1649 shows a portrait of Charles I on one side and a skull and a crown on the other. Inside the inscription reads, "The glory of England has departed."
The presentation of mourning rings was a status symbol in the 17th and 18th centuries. The wealthy specified the ring design and quantity to be made in their wills.
Samuel Pepys, English diarist and naval official (1633-1703) willed that 129 mourning rings be given away at his funeral.
Either he had a large family or a huge ego.