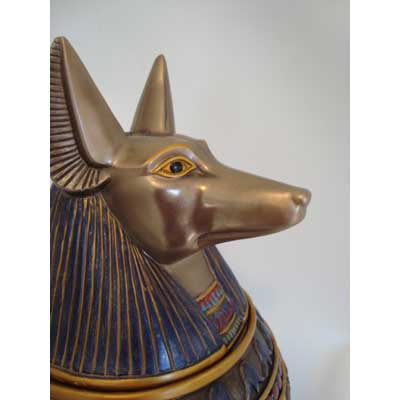 One of the more popular styles of  pet urns is the one inspired by canopic jars that were found in pyramids that appealed to the god Anubis,  to guard and protect the dead and one of the most iconic gods of ancient Egypt. Originally known as a god of the underworld, Anubis (or Anpu as the ancient Egyptians called him) became associated with funeral rites and the embalming process.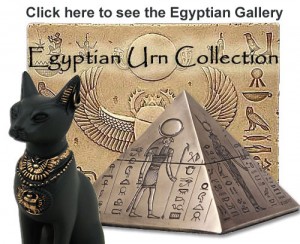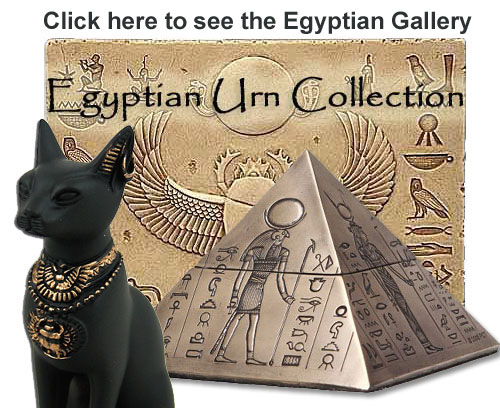 Anubis travels in in the modern world now in the form of a bronze urn that is a good size for pets or people that want to divide ashes or retain some after an ash scattering ceremony. The size works well for many pet owners, as they sometimes have room for a small collar or toy in addition to the ashes.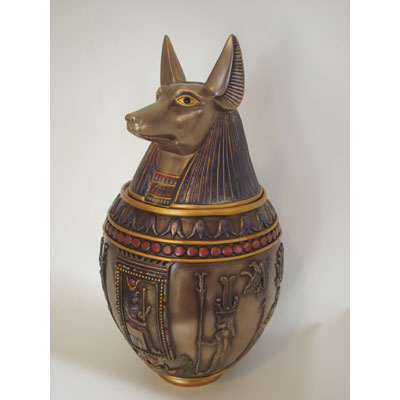 Although Anubis was known as the inventor of embalming and assisted in the rites of mummification, today he guards the cremated remains of loved ones. He helped preserve his father Osiris, the god of earth and vegetation, with the hopes that he may live again. Pet parents who have recently lost a dog will often choose this style of Egyptian urn, while many cat owners will choose Bastet.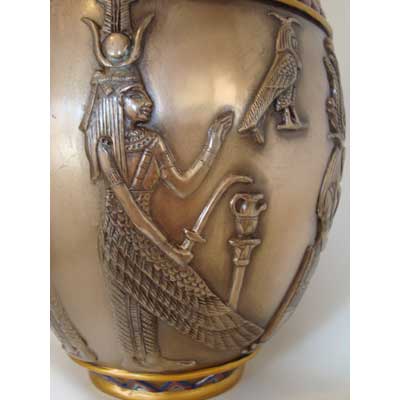 Anubis was said to have the body of a man and the head of a black jackal, and he is holding a scepter originally carried by gods and kings. Anubis' symbol was ox-hide covered in blood as it hangs from a pole. Its meaning is not known. This god had several roles:
•    Supervise the embalming or mummification of bodies
•    Place each mummy into its tomb, perform the "Opening of the Mouth" ceremony (ritual that allowed deceased to enjoy the offerings and provisions performed by the priests and officiants) and conduct the soul in the "Field of Celestial Offerings" (a paradise of earthly pleasures)
•    Monitor the "Scales of Truth" and protect the dead from eternal death and deception
•    Feed the souls of wicked people to goddess Ammit
The god Anubis is associated with the jackal because this type of wild dog lurked around graves. This is why ancient Egyptians decorated and made their tombs elaborate as to keep the jackals away. Egyptians who worshipped Anubis hoped to appeal to him to protect their deceased loved ones from jackals and the natural decomposition non-embalmed bodies endured.
Anubis is the son of Osiris and Nephthys (lady of the house). Later Egyptian priests typically wore the mast of Anubis during embalming and mummification ceremonies.
If the magic and lore of ancient Egypt appeals to you, more cremation urns in this timeless style are available to protect and guard the ashes and create a lasting memorial to your loved one.