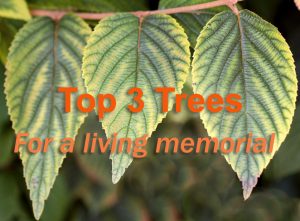 When a death occurs friends often are left wondering what they can do for the grieving family. We've written about gift ideas before, but a living memorial could be the gift that keeps giving and creates a beautiful lasting legacy. Specifically, we are talking about an ornamental tree or flowering bush. Naturally, this wouldn't be appropriate for an apartment or condo dweller, but for a family or friend that has room on their property or wanted to make a donation to a park, this gift could be the answer.
My grandmother's tradition of scared plantings in the garden and her gifts of perennials and flowering trees is the inspiration behind our business. Right before Grandmother died, she gifted a dogwood tree to the spouse of longtime family friends. It was bittersweet and symbolic, as the person who had passed did not have any brothers, sisters or children of her own and was basically the end of the branch on that family's genealogy tree.
Before we start, we should note that if you want to personalize your living memorial with a plaque or marker, some families choose to create a tree dedication marker that can be placed at the base of the tree.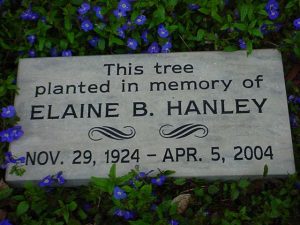 The stones are weather proof and can contain names and dates or other brief message that will mark the sacred spot.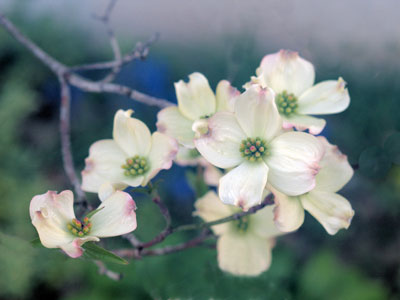 1. Flowering Dogwood
This is the Dogwood that most people are most familiar with. The nice thing about these trees are that they don't take up a lot of room and are early spring bloomers. Definitely a sight for sore eyes after a long bleak winter. White or pink flowers and even grafted varieties that create half pink half white. The dogwood symbolizes life and gives us hope after a dark and cold season. Here in zone 7 the dogwoods start to pop in April, signaling the arrival of the hummingbirds shortly after. We've noticed that later in the fall, the squirrels love to feed on the seed pods that are left on the tree.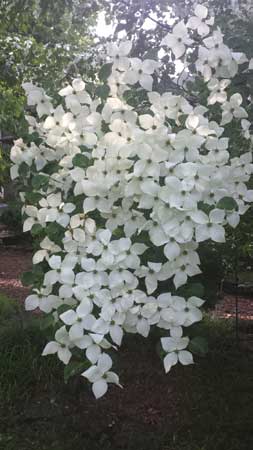 2. Japanese Dogwood (Kousa)
Another species of dogwood and personally, my favorite. The Kousa blooms later in the spring, usually mid May and the blossoms are spectacular. Star shaped white flowers load the branches and will last for weeks, lasting longer than the standard Dogwood. This tree combines the best of delicate beauty but is tough and durable. Nice and shady in the summer and then the leaves will turn red in the fall.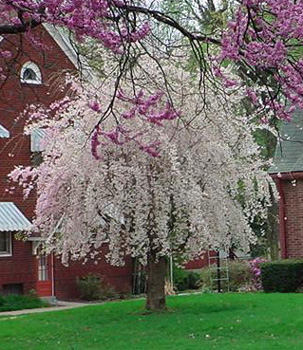 3. Weeping Cherry
Stunningly beautiful, the cascading blossoms of pink or white in early spring are a welcome site and are often planted near pools of water for maximum impact. Check the label if size is an issue for you when planting. Some of the weeping cherries can get quite large and tower over 40 feet tall. If smaller and more compact is more desirable for the landscape you have chosen, check out the dwarf varieties.
Due to the heat, it's a little late in the season right now for planting these types of trees, best times are early spring and later fall. That gives you plenty of time to pick the perfect spot and coordinate a tree planting ceremony or dedication if desired.