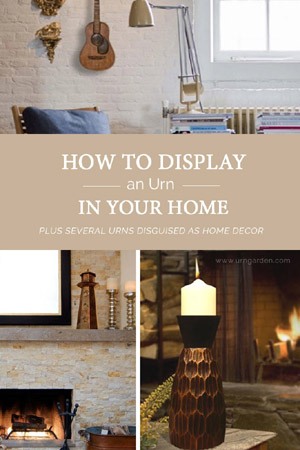 So many families are choosing to keep the urn in the home in an effort to keep burial costs down. If you are planning on displaying a cremation urn in a prominent location in your home, whether it's on the fireplace mantel or bookshelf, you want to make sure it blends into your décor so it won't stand out or look out of place. There are five styles of decorative urns available that can help accomplish this:
Bronze Sculpture Urns
This is the top of the line, premium choice for families that want the only the best.
Looking more like a piece of art than an urn, bronze sculptures are a beautiful way to display a loved one's cremated remains while blending in with the rest of the room's décor. Animal and themes of nature are popular, you can select from a variety of styles including a deer, turtle, dragonfly, sea shell and eagle.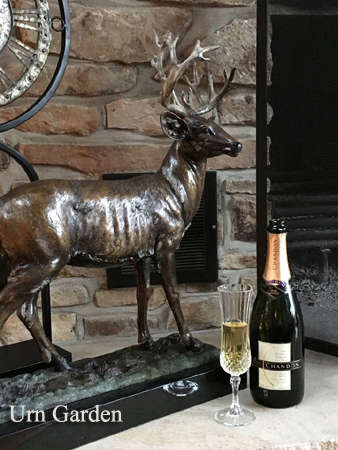 Bronze urn orders need a little lead time usually, but are so worth the wait. One of our most popular styles is a helmet urn for firefighters that can be personalized with name, rank, and department.
Decorative Cloisonné Urns
By using this ancient Chinese art form, a simple-looking urn can look unique and add a classic touch of elegance and totally blend into to the decor of any room in which it is displayed.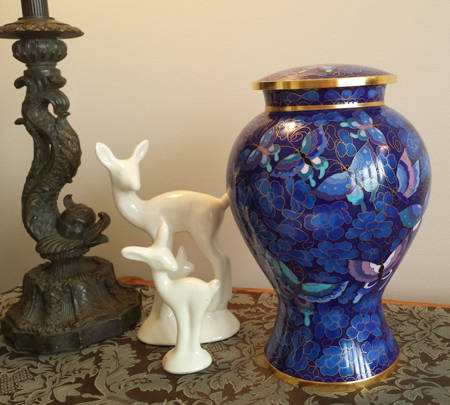 They are made by layering copper, brass and vibrant shades of enamel in blue, red and gold, blush pink, pearl white, and lush green. Interior decorators have used cloisonné for years to add color and interest to home decor.
Hand Thrown Pottery Urns for Ashes
These earthen and rich urns can add a rustic touch to any room. Made from natural clay, they can also add a sense of timelessness. Pottery urns can also be finished with lustrous glazes for a more elegant and dazzling look. Probably best not to display your pottery in direct sunlight as the rays can be hard on the finish and cause fading or discoloration over time.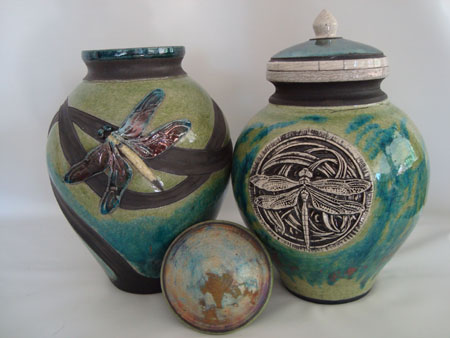 Ceramic Ginger Jar Container for Ashes
Identifiable by its rounded shape, small mouth and domed lid, a ceramic ginger jar is by far one of the most distinct and attractive urns you can get to complement a room's décor.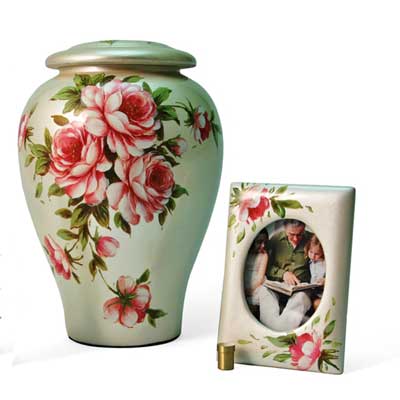 For centuries, they were used as jars to hold spices or simply for decorative use. Today, you can get that same traditional look with a ceramic ginger jar urn.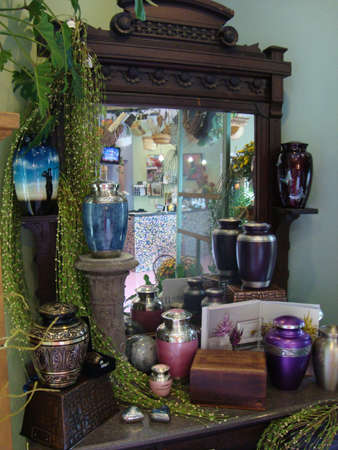 Traditional Vase Style Urns
This type of urn is made from metal, marble or ceramic and often have floral or a tranquil nature scene or picture on it and come in every color of the rainbow, including purple! An urn with a hand-painted desert sky or beach at sunset can add a touch of elegance to any room without actually conveying its original use. Many of the vase shapes will easily fit into a china hutch or display case and can be personalized with names, dates, or a verse.
Whether you are seeking a certain color or a theme that will compliment a personal collection we can help.