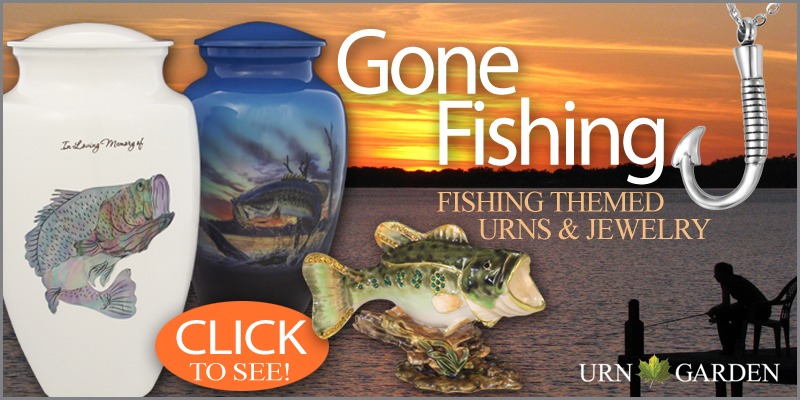 Fishing Urns
If you're looking for a fishing urn to celebrate this angler in your family, then no doubt you've heard this before: "The two best times to fish is when it's rainin' and when it ain't." (Source) It's from Patrick McManus, humorist and author of The Night the Bear Ate Goombaw. Surely, he captures the angler's whole-hearted approach to fishing.
Here's several unique bass fishing urns that celebrate a loved one's passionate commitment to the sport.
First up is the Bass Fishing Cremation Urn.
Hand-crafted of metal, it measures 11 inches in height and features a fighting mad large-mouth bass leaping high against sunlit skies and golden-hued water. Its size makes it suitable urn for ashes of an adult and is ideal for display in the home or in a mausoleum or columbarium cemetery niche. It can be engraved with the name of the deceased as well as his or her birth date and day of death if desired.
Families that want a small keepsake version of a feisty bass, this small jeweled token might be the answer.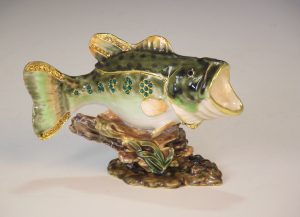 Gone Fishing is another adult size with a quieter peaceful scene of bank fishing silhouetted against a fading sunset. This urn looks great with engraving and you can get this service free with your purchase.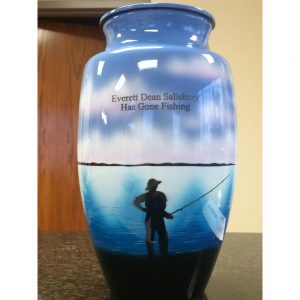 Another uniquely beautiful fishing urn in our collection is the Rod and Gun Club cremation urn for the soul that loved both hunting and fishing.
[Read more…] about Urns for Sale: The Right Bass Urn Captures the Angler's Joy