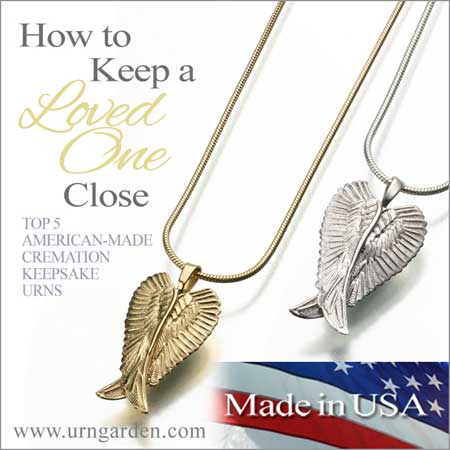 As you might already know, Urn Garden offers well over a dozen such pieces of cremation jewelry, some of which are produced overseas. And while some aren't concerned about that, for lots of folks, "buying American" is an essential part of their consumer outlook. It's for that reason I put the spotlight on our most popular American-made cremation necklaces and cremation pendants.
Right now I'd like to ask if, in the back of your mind, you're wondering just how a cremation urn necklace or cremation pendant can make a difference in your life. If so, I invite you to read our resource article, "Why Do People Buy Cremation Jewelry?" Written by a certified grief counselor, it details what we've found to be the many benefits of wearing cremation keepsake jewelry.
Why is "Made in America" important to many consumers? It's complex yet, in the end, it comes down to this: when you buy American manufactured goods, you support American workers, safe working conditions and honor child labor laws. Also, because of more stringent environmental protections here in the United States, consumers feel they're helping to keep pollution at a minimum. Product quality is also an issue; while you may pay more for an American-made cremation necklace or cremation urn pendant, you can be confident in the quality of the manufacturing process and the final product.
Top 5 American-Made Cremation Pendants and Necklaces
I'm delighted to share these beautiful pieces of cremation keepsake jewelry with you today. Our first is the Tear Drop Slide Urn Pendant. It's an elegant yet simple cremation urn pendant, the silver reflective surface of which is almost mesmerizing.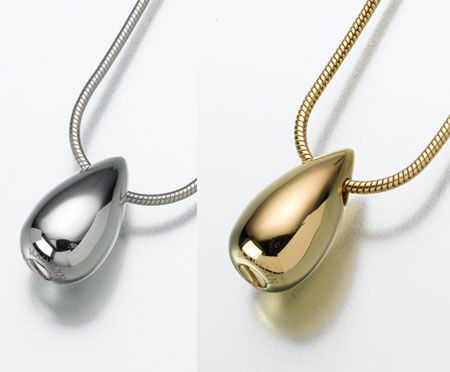 If silver isn't your color, this cremation pendant is also available in gold vermeil (100 mg gold over silver).
As with the others in our top 5 American-made cremation pendants and necklaces, it comes with a black satin cord, full instructions and necessary tools for filling. Optional chain styles are available.
Take a look at our Silver Sea Shell Cremation Jewelry.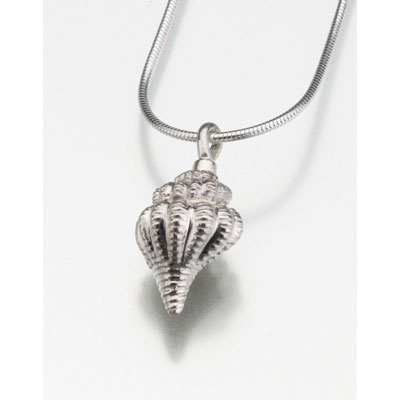 It's a cremation pendant which pays tribute to the intrinsic beauty of the Conch, a seashell which, for many peoples of the world, signifies protection and strength. For others, it's the perfect symbol of the power inherent in the feminine persona. Again, this cremation urn necklace comes with a silk cord and the tools required for easy, mess-free filling.
For some, this next piece of cremation jewelry, our Gold Italian Horn Urn Necklace, is especially masculine.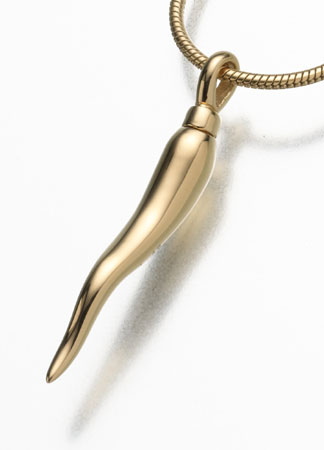 The horn, a protective symbol for peoples around the world, has been found in the mythologies of the Celts and Druids; and in some places and times it's represented the power of the Moon goddess. This ages-old connection means this cremation urn necklace is appropriate as a memorial to a strong, protective woman. As with the other urn necklaces seen in this post, this piece comes with a silk cord and the tools necessary for worry-free filling.
Let's take a look now at our popular Infinity Sterling Silver Cremation Urn Jewelry.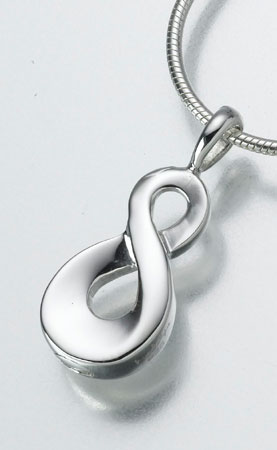 Here, the ages-old infinity symbol, which represents "something with no bounds", has been adapted to create a beautiful cremation urn necklace.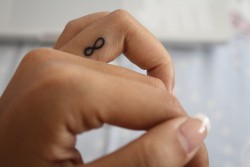 In wearing this piece, you proclaim the loving relationship you have with the deceased is without end.
Our Double Chamber Silver Heart Urn Necklace holds two separate portions of ashes in two chambers that are located on the bottom of the pendant.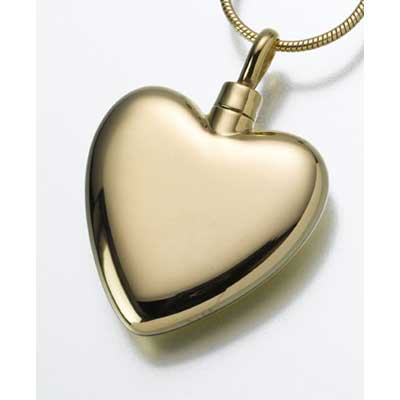 Many of our clients have told us this cremation urn necklace is ideal for memorializing their deceased parents. As with the other American-made cremation necklaces, this piece comes with full instructions for filling and a black satin cord.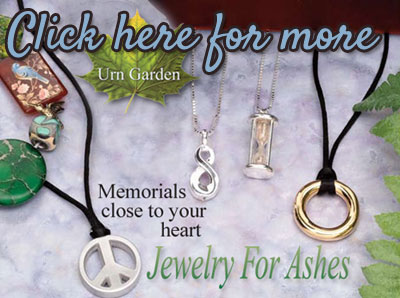 I hope you've enjoyed seeing these American-made cremation urn necklaces and cremation pendants. If you'd like to know about the day-to-day care of cremation jewelry, I suggest you read one or both of our resource articles, "Cremation Jewelry – Care and Cleaning of Silver Urn Pendants" and "Cremation Jewelry – Care and Cleaning of Gold Pendants". Of course, if you've got questions, give us a call at 1-888-876-1467. We're available to support you in selecting a cremation urn pendant or cremation necklace, Monday through Friday, 9AM – 5PM Central Time.