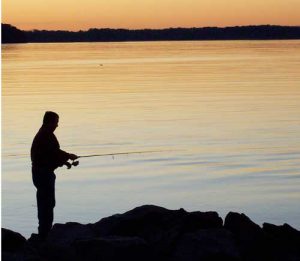 If you're looking for a fishing urn to celebrate this angler in your family, then no doubt you've heard this before: "The two best times to fish is when it's rainin' and when it ain't." (Source) It's from Patrick McManus, humorist and author of The Night the Bear Ate Goombaw. Surely, he captures the angler's whole-hearted approach to fishing.
Here's several unique bass fishing urns that celebrate a loved one's passionate commitment to the sport.
First up is the Bass Fishing Cremation Urn.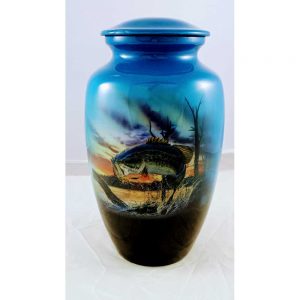 Hand-crafted of metal, it measures 11 inches in height and features a fighting mad large-mouth bass leaping high against sunlit skies and golden-hued water. Its size makes it suitable urn for ashes of an adult and is ideal for display in the home or in a mausoleum or columbarium cemetery niche. It can be engraved with the name of the deceased as well as his or her birth date and day of death if desired.
Families that want a small keepsake version of a fiesty bass, this small jeweled token might be the answer.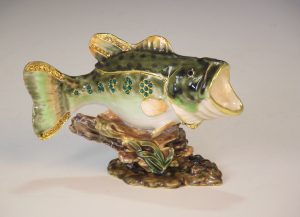 Gone Fishing is another adult size with a quieter peaceful scene of bank fishing silhouetted against a fading sunset. This urn looks great with engraving and you can get this service free with your purchase.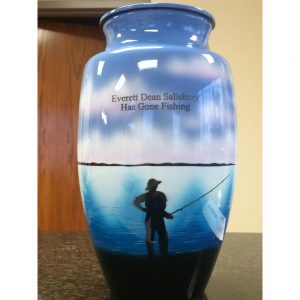 Another uniquely beautiful fishing urn in our collection is the Bass Fishing Cremation Box.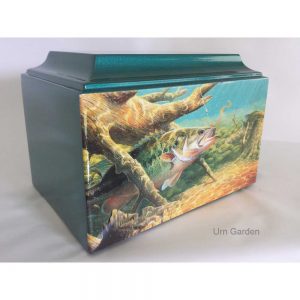 It's stunning: gorgeous emerald green metal flake paint sparkles and contrasts with a brushy underwater scene and a trophy bass about to take the bait. This lightweight, fiberglass urn will hold a complete set of adult ashes would make an ideal tribute to the complex nature (maybe a little feisty?), positive attitude and open mindedness of the fisherman or woman in your family. This box may be light, but it's sturdy, secure, and easy to load. You may be pleased to learn this is one of our many cremation urns made in the U.S.A. , which means you'll be supporting American labor with your purchase.
Fishing has many symbolic and spiritual references and makes a beautiful memorial for fishing enthusiasts.
"Everyone should believe in something," said American philosopher and essayist, Henry David Thoreau. He followed that with "I believe I'll go fishing."  (Source)
Thoreau also commented on the inner spiritual journey of the angler when he wrote, "Many men go fishing all of their lives without knowing that it is not fish they are after." (Source) Both statements add to the meaning and significance of this touching memorial.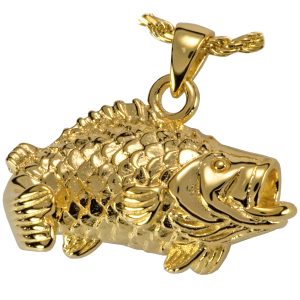 Finally, I'd like you to see one more memorial tribute to the fisherman; our Bass Fishing Cremation Jewelry. Small in size, but stunning in its detail, this sterling silver pendant is overlaid with gold, making the largemouth bass catch and reflect light. It can be personalized by engraving one line of text on the back. While it comes with a complimentary black silk cord, you can also select a gold-filled chain to make the presentation complete.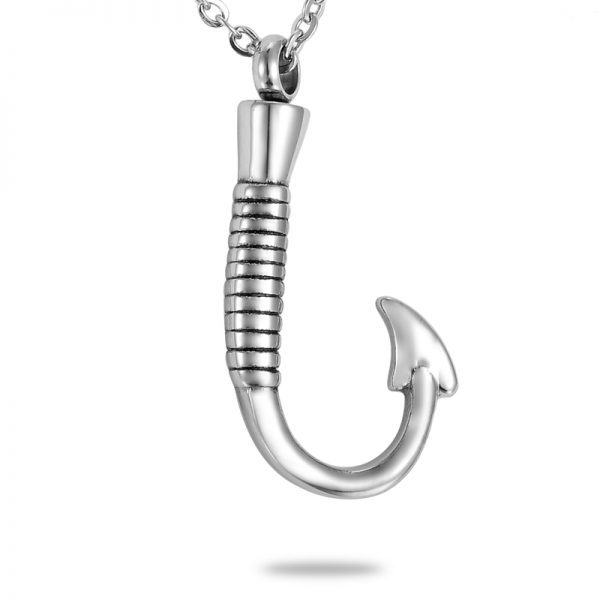 Not only is wearing  cremation jewelry a daily reminder of the deep connection you shared with your loved one; it will also be an affirmation of the spiritual significance of fishing in general–and bass fishing in particular. As nature writer Harry Middleton said, "Fishing is not an escape from life, but often a deeper immersion into it". (Source)