The bass are jumping here with tournaments every weekend. After a long winter, fisherman have the fever to get out and reel in the big one. Opinions differ on the best time to go, some say early spring is the best for catching bass, others like to fish an hour or so before sundown. Crank baits, top water lures, buzz and spinner baits are tricks of the trade, every angler has his favorite tool in the tackle box and secret honey hole.
Inspired by the sportsman and the feisty fish they seek, we launched a collection dedicated to their memory.
Most of these are standard size metal urn that will hold all of the ashes of an adult and feature a big lunker leaping out of the water. Names, dates, or a brief verse or sentiment can be engraved on the surface.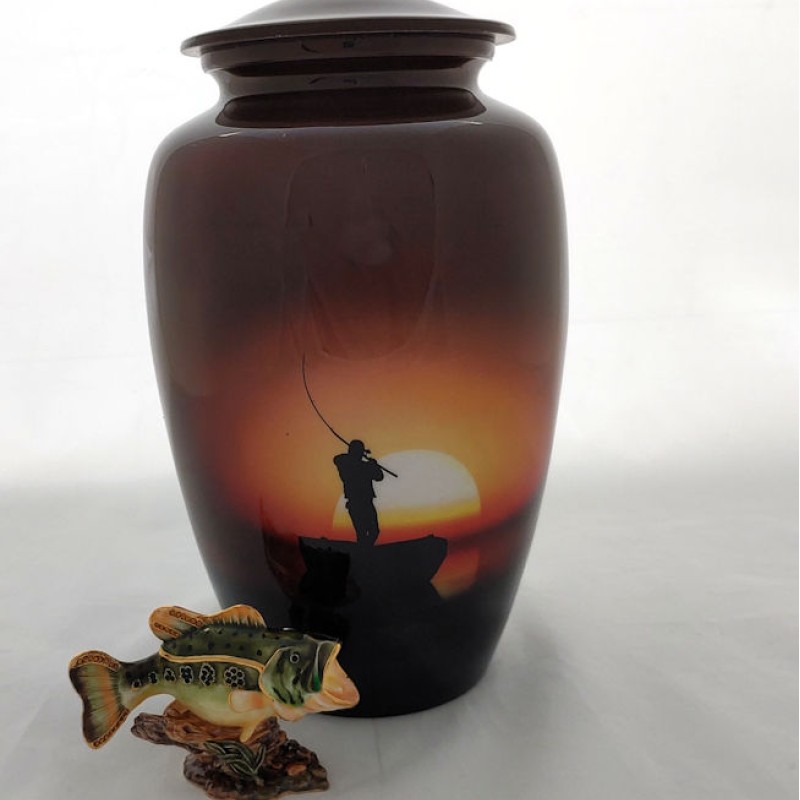 For folks that want to preserve a small memorial, the jeweled mini bass urn might be an option. Also metal, but on a much smaller scale, this size is perfect for saving a tiny amount of ashes if the family plans to scatter or a traditional burial. Hand painted with rich enamel and studded with crystals, it's got a little flash and is a unique way to pay respect to your favorite fisherman.
And on an even smaller scale than the keepsake size, cremation jewelry holds a tiny bit of ashes. The fish hook holds a lot of symbolism for many, both spiritual and sporty. This could be worn by men or women and is affordable. Made from polished stainless steel, it won't tarnish or turn like traditional sterling silver.
Bass are tasty and fun to catch, but this past weekend in a recent tournament at Table Rock Lake, the hunt was not for bass, but carp, one of the trashiest fish in the lake. Bow fishing blends archery and fishing and is a sport that has seen tremendous growth in the last couple of years. This tournament offered a $10,000 cash prize for first place and attracted anglers from all over the country. The archers improve water quality by hauling thousands of pounds of carp out of the lakes, that are then used for fertilizer. This year, over 20,000 pounds of the fish were harvested.
Fishing is fun and whether you are in a boat or on the bank, hunting for the big bass or even snagging a baby bluegill, this urn says it all for the forever fisherman.
We offer free laser engraving on this one and free ground shipping. Speedy turnaround and stellar service. We want to help you honor your loved one. Need help? Contact us.