Here's the big deal: mega-relaters like Amazon and Walmart are changing the way we do business – and not necessarily for the better. In a nutshell, they are driving "the ongoing evolution and disruption of the retail market, online and in offline "brick and mortar" stores, primarily as a result of e-commerce" (source).
I see the results every time I walk along the main street of town: there are at least four empty store fronts at any one time. Often someone gets excited about starting a service-based business, but they don't last long. (Here's a fun story for you: one woman opened a business offering psychic and Tarot card readings. I guess she couldn't see into her own future very well; I've heard she and her partner left town in the dead of night, stiffing the landlord for rent. Ah, but I digress; my point is: has changed both the face of the marketplace.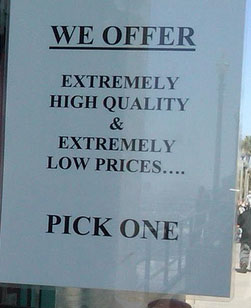 To some degree they've restricted our (perceived) vendor options: often we think only of Amazon (or, if you're a Walmart loyalist, then you'll think of them first) as the best source of what we want or need and our values as consumers. Today, supporting local retailers has become less important than convenience and price. Let's not forget about free shipping!
After literally years of being an Amazon loyalist, I've become–over the past 8 months or so –disillusioned with them. I'm not the only one; In "5 Things to Consider Before Buying Cremation Urns from Amazon or Walmart" we heard firsthand from disappointed Amazon and Walmart customers – and there are hundreds (if not thousands) more complaints about Amazon and bad negative Walmart reviews on the internet. Our dissatisfaction grows, it seems, as these companies continue to dominate the marketplace – but let's face it: as consumers, we've got all the power. I think we should use it to drive the quality and diversity of vendors and products, and reshape the online shopping experience.
Sources:
whatis.techtarget.com