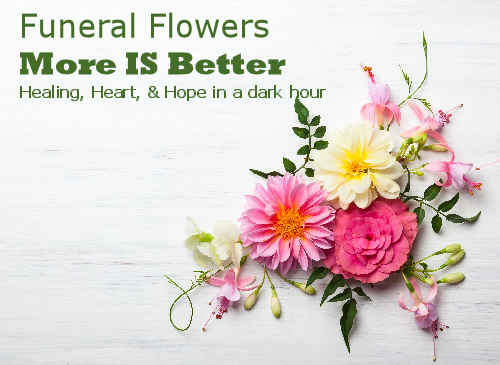 Sadly, funerals have been on my itinerary more frequently the last couple of years. One disturbing trend that's clear and often noted in the obituary is the phrase "in lieu of flowers"…. and I must say, I think it's misguided. There's nothing wrong with fundraising for the family or a favorite charity in place of the flowers, but when possible it's a good idea to add floral arrangements to the service and here's why.
Flowers Can Help Heal the Heart
Lately, the funerals we've attended have been for young people whose lives were cut short by the opioid epidemic. Two of the services were stark contrasts to each other. One, was loaded with flowers, the other, very minimal, with a couple of green plants. The mood at the funeral with flowers was actually a little lighter and brighter compared to the one that was barren. There is something about being surrounded by beauty in a very dark hour that helped to ease the pain.
A couple of weeks ago, a family friend committed suicide. He was well connected in our community and we were all shocked by this sudden end. His memorial service was held on a bright beautiful Saturday and was well attended, although, no one wanted to be there. That morning, I woke with a heavy heart, and a feeling of dread hung in the air. I really did not want to go to this sad gathering. The widow is a good friend and I could think of a million things I'd rather do. After jockeying for a place to park, we walked through the doors and were greeted by a familiar face handing out programs and then the stepped over to the guest book on a table that was loaded with beautiful flowers sent by grieving friends. That's when I felt it. A feeling of calm washed over me. We've written about the healing power of flowers, it's a well documented fact that you can read about all day long, and dates back to the beginning of time, but that Saturday, I actually experienced it myself.
The deceased was a veteran and had been cremated, so the family chose a patriotic themed urn and many of the arrangements were red, white, and blue, including a large flag made from flowers.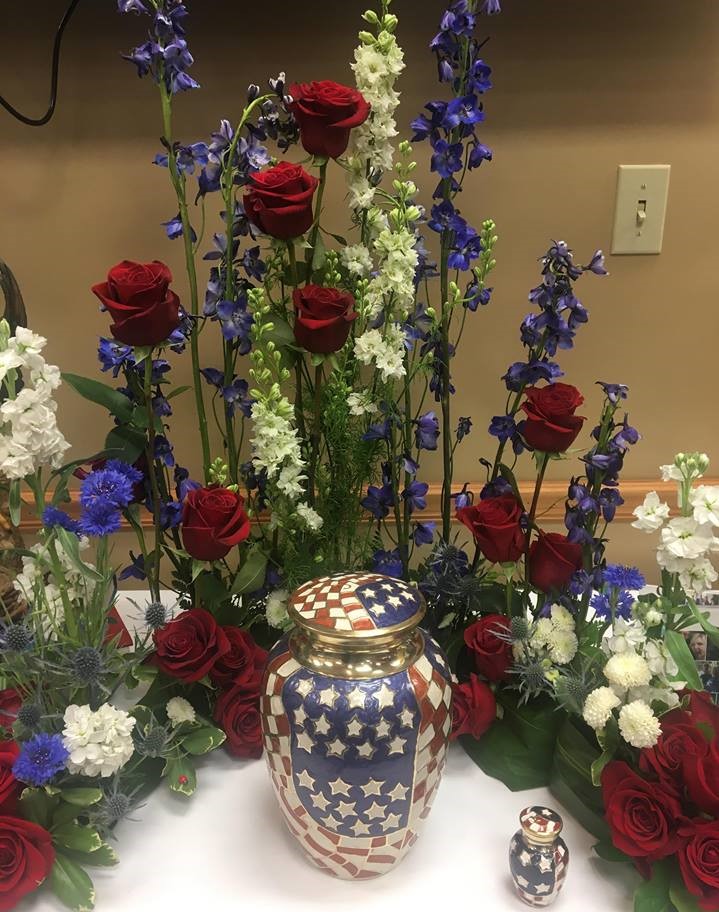 We are fortunate in that we have several friends that are in the floral business that experienced and super creative. I've been able to tap their talents and have beautiful creations that were made with love for my own departed friends and family members. I could see and feel the thought, care and precise placement of every single flower and leaf. One example would be garden statues and stones mixed into an arrangement. We kept it small enough to easily transport and it doubled as a lasting memorial gift. Another time, one of my florist friends did a gorgeous wreath to adorn my grandmother's urn. The funeral home was right across the street and the florist was able to get the urn ahead of time to build the arrangement around it for a custom fit. She used white gardenias and roses and it was a perfect match and allowed us to have something to place on the grave at the burial. Even though the burial was a couple of days after the celebration of life service, we were able to keep the wreath looking fresh by storing it in a cool environment and lightly misting it.
For the friend that lost her daughter to a heroin overdose last summer, we commissioned an arrangement in her favorite color of purple that was centered around an angel figurine that her mother could keep as a remembrance.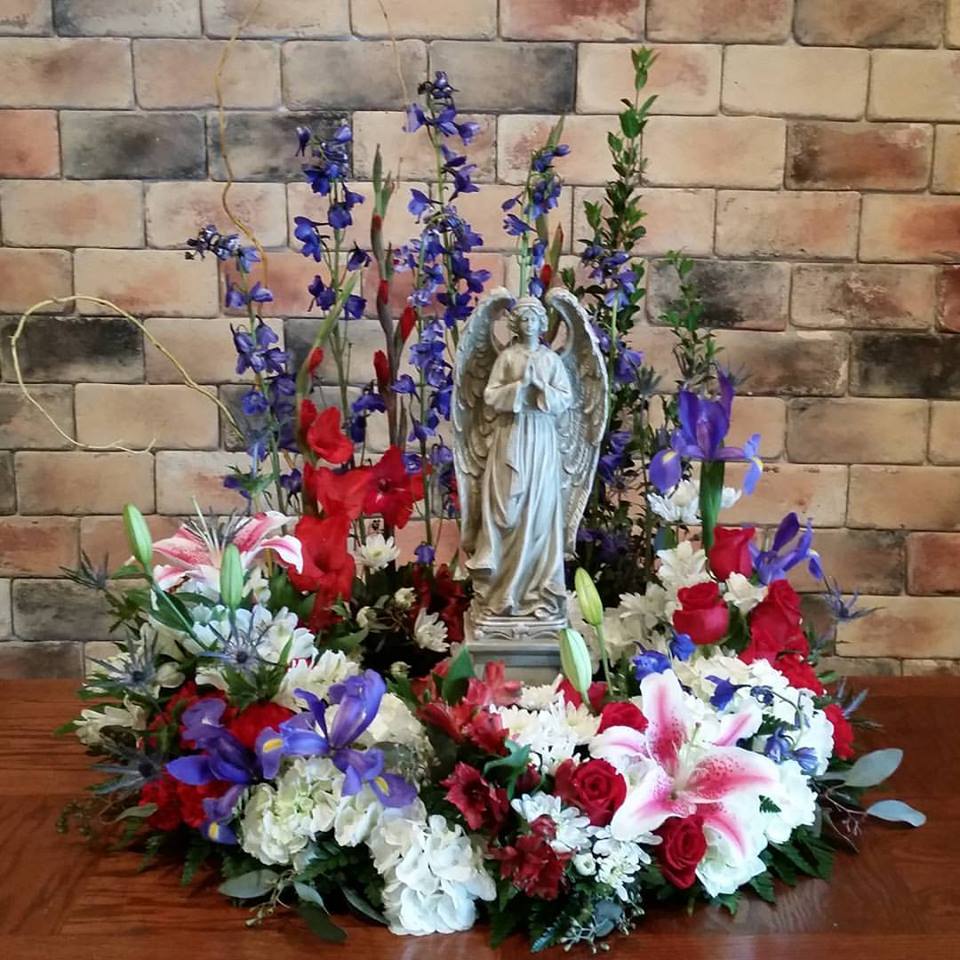 My father in law was a baseball nut and huge Cardinal fan. When he passed away, our local florist made a baseball out of white carnations and red roses and placed it a display of baseball memorabilia.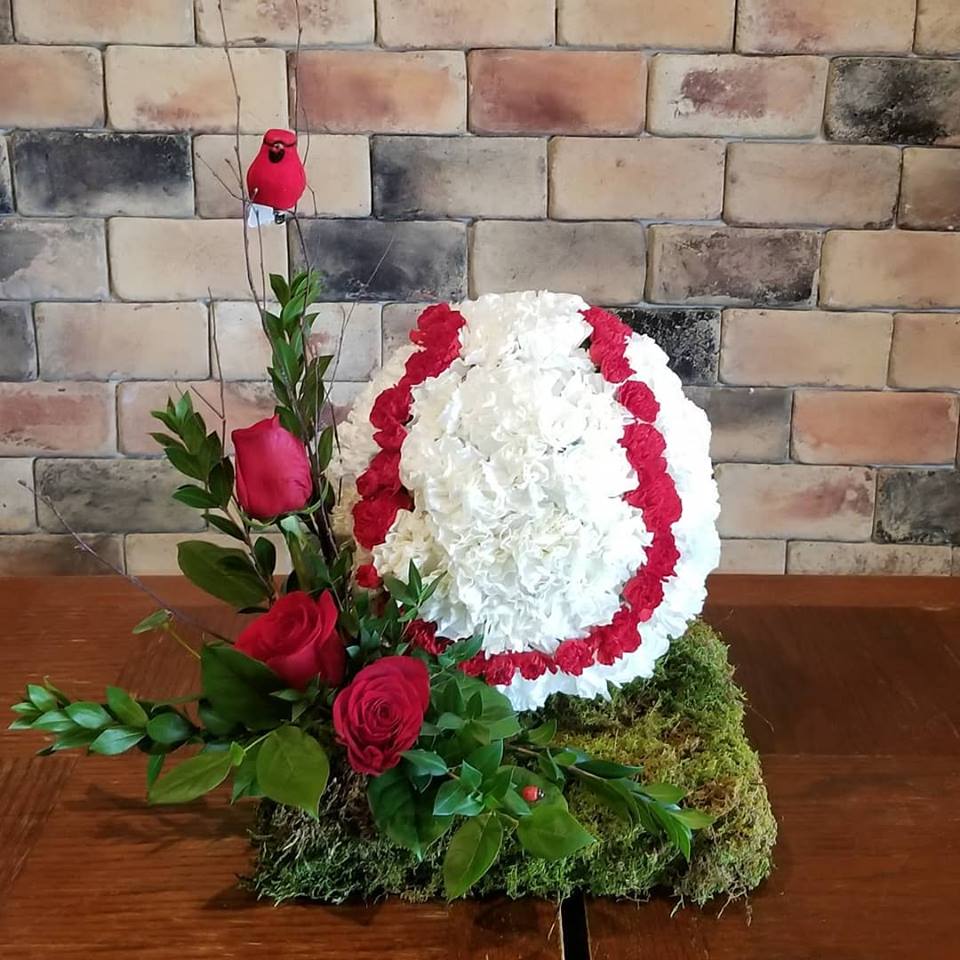 In addition to the standard sympathy sprays, there were smaller vases, green plants, and even a couple of sculpture pieces. The bigger easel, casket sprays, and sculpture arrangements are expensive, and not everyone can afford it, but if you can pool funds and share costs with friends, the impact is huge and healing. Floral pillows and sculpture pieces are kind of old school, but they never disappoint and will even bring a smile at a funeral.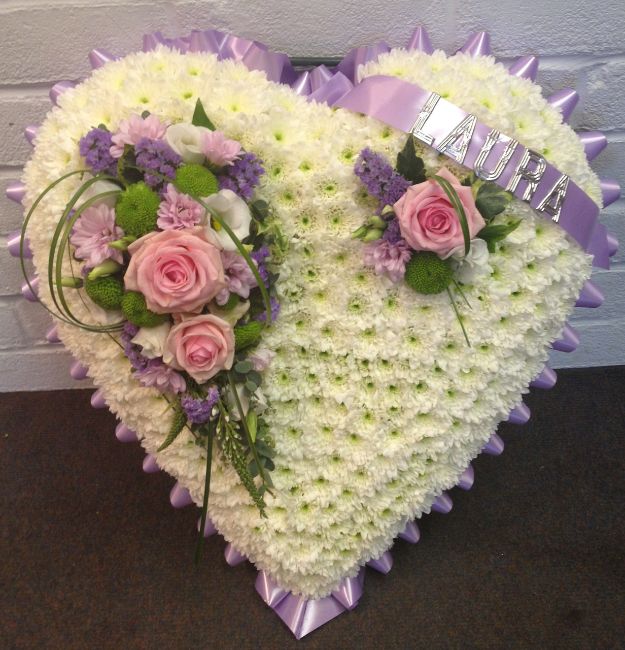 Florists can really showcase their talents here and a couple of creative and meaningful examples are the guitars and mushrooms that were created for Gregg Allman's funeral. Traditional heart shapes, horseshoes, and ribbons are statement pieces that never go out of style.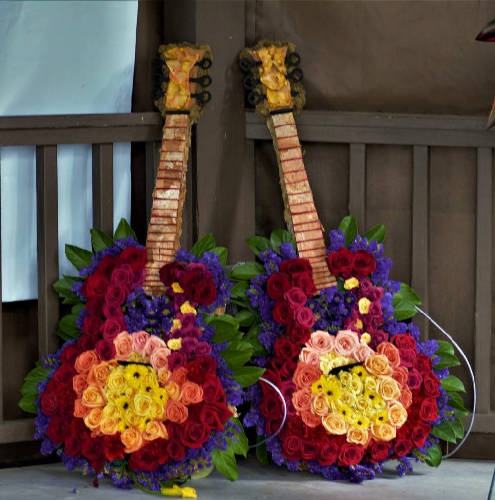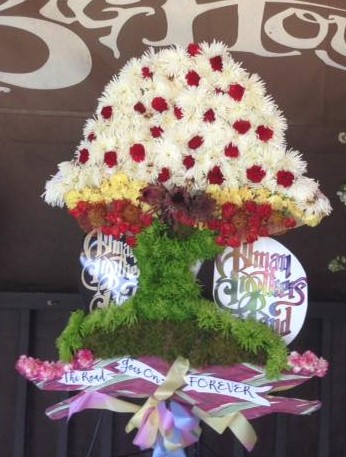 So when you have several gifts of flowers at the funeral, there's always the question of what to do with them after it's all over. If it's an earth burial, naturally, you can place them on the grave. But, with so many families opting for cremation and either keeping the urn in the home for awhile, or storing in a niche, a decision has to be made. In the earlier examples, the families picked a few favorites and took them home, and then contracted with the funeral home to deliver to nursing homes, hospice care, and churches. This would be a good time to add that if you are plan to send an arrangement, use your local florist! Sympathy arrangements can be costly and internet florists and wire services can result in wilted or crushed results. Out of town? Call the funeral home and get a lead on one of the florists that they are familiar with, some of the funeral homes even have in house floral departments.