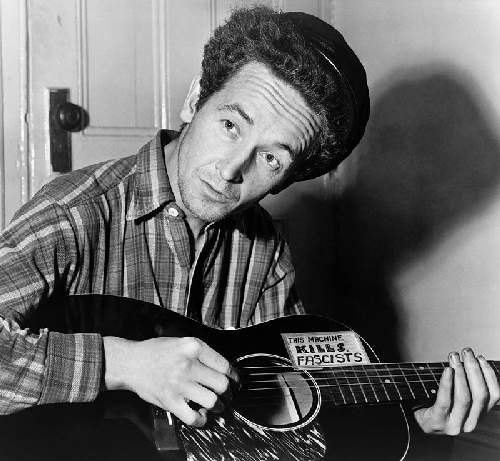 Last month we published Celebrity Cremations: Isadora Duncan, in celebration of the famous dancer's birthday in late May – and in acknowledgement of her forward-thinking in relation to the practice of cremation. This month, in recognition of July being America's birthday month, I'd like to look at another of the many celebrities who were cremated – American singer/songwriter and social activist, Woody Guthrie.
Maybe 'celebrity' is the wrong word for Woody; 'celebrated' is better. His life was the subject of a 1976 film with David Carradine; Bound for Glory; and his prodigious creativity was the focus of the 1999 documentary with Wilco and Billy Bragg, Man in the Sand. Both are well-worth watching and give you a good 'feel' for this American icon.
Guthrie is the creator of what are today considered patriotic classics like "This Land is Your Land", "Roll on Columbia", and "Pastures of Plenty". I love him most for his fun, silly, and toe-tapping children's songs, like "Rattle my Rattle" and "Riding in My Car". You might be happy to know his son Arlo – along with his family – recorded some of them in "Woody's 20 Grow Big Songs".
When he died in 1967, Woody's family chose to have his body cremated and his ashes scattered in the sea. Interestingly, there's a cenotaph (a headstone used to commemorate someone whose body is elsewhere) in Highland Cemetery, in Okfuskee County, Oklahoma where he was born.
In tribute to this amazing American, I'd like to close with some of the lesser-known words to
"This Land is Your Land"
As I went walking, I saw a sign there,
And on the sign there, it said "Private Property."
But on the other side, it didn't say nothing!
That side was made for you and me.
In the squares of the city, in the shadow of a steeple,
By the relief office, I'd seen my people.
As they stood there hungry, I stood there asking,
Is this land made for you and me?
Guthrie used his song-writing skills as a social and political tool for change during a time of great poverty and unrest in our country. I, for one, am proud to share a common national heritage with this remarkable man.
Source: