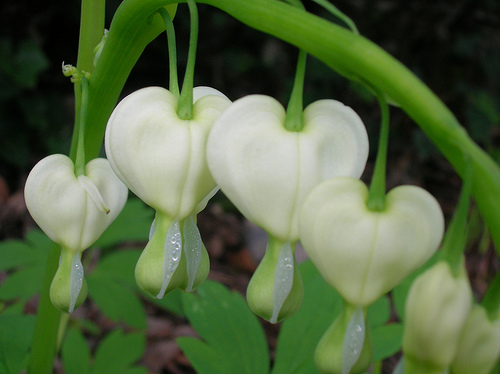 Today I'd like to talk about what's been called "the language of flowers". Certainly, we all know flowers don't actually speak; nonetheless, we've found a way to embody each type of flower with meaning and significance. These socially-ascribed meanings are useful to us; not only when planning a funeral or a wedding, but also when choosing a cremation urn. An urn with flowers – carefully chosen blossoms representing a quality of the deceased individual or the relationship you shared – can do much to help in restoring one's life to equilibrium after the death of a loved one.
You can spend hours searching the Internet for resources on the various meanings given to flowers. I noted two of them in "DIY Memorials: More on Planning a Memorial Garden"; the Flower Expert's webpage, "Flower Meanings" – or Good Housekeeping's "41 Beautiful Flowers with Surprising Meanings". But, of course there are others, like the free downloadable PDF guide to the meaning of flowers published online by the Smithsonian Gardens.
The website, The Language of Flowers, is rich with often entertaining entries, like this for the Tuberose: "Dangerous pleasures" and "Voluptuousness." (Makes me think of Mae West!)
There are also popular books on the subject, including A Victorian Flower Dictionary, which is intended to be a companion guide to the bestseller The Language of Flowers: a Novel, by Vanessa Dffenbaugh.
Also, the reference guide Folklore and Symbolism of Flowers, Plants and Trees (Dover Pictorial Archive) by Ernest Lehner, is very useful, as is The Secret Language of Flowers by Samantha Gray.
If you don't have time to go through all that material, below you'll find a chart of commonly-held beliefs about the meaning of some well loved flowers:
| | |
| --- | --- |
| Flower Name | Meaning |
| Amaryllis | Pride |
| Anemone | Forsaken |
| Aster | Love, daintiness |
| Bachelor's button | Single, blessedness |
| Basil | Good wishes |
| Begonia | Beware |
| Carnation, white | Innocence, good luck |
| Carnation, pink | I'll never forget you |
| Chrysanthemum | Cheerfulness |
| Daisy | Innocence, hope |
| Fern | Sincerity, humility, bonds of love |
| Forget-me-not | True love memories |
| Gardenia    Secret love | Secret love |
| Geranium | True friendship |
| Gladiolus   Remembrance | Remembrance |
| Hydrangea | Gratitude for being understood |
| Magnolia | Love of nature |
| Poppy, red | Consolation |
| Rose, dark crimson | Mourning |
| | |
| --- | --- |
| Rose, pink | Happiness |
| Rose, white | Purity, heavenly |
| Rose, yellow | Jealousy |
| Violet | Loyalty, devotion, faithfulness |
| Zina | Thoughts of absent friends |
Closing with Some Seasonal Musings
As I watch my garden truly take root and come to a colorful, aromatic life, I feel very deeply this is a magical time of year. And while it's nearing the end of June, where I live we've had a long spring–a charming season, as Rainer Maria Rilke captured in just two sentences:
"Spring has returned. The Earth is like a child that knows poems."
This past week, however, summer arrived with cool, foggy mornings and hot afternoons with temperatures in the low 100s.
"Then followed that beautiful season… Summer…. Filled was the air with a dreamy and magical light; and the landscape Lay as if new created in all the freshness of childhood."
It seems Longfellow shared my sense of magic in the garden–perhaps, as he says, it lies in the sunlight which nourishes all who stand among the blooming flowers. (Quotes Source: AZ Quotes)
One Last Thing: a Side Note
Because of a lengthy connection with members of the death care profession, I've spent years writing about the healing value of flowers – most notably during times of bereavement. Read "Flowers for Funerals – They are Important" or "The Value and Benefit of Funeral Flowers" for more on that subject.