If you're looking for cremation urns made in the U.S.A., I've got to be honest and tell you there's no better place to find ceramic urns for ashes which are hand-crafted by American artisans. This is the place.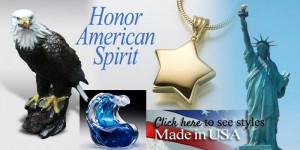 I'm especially pleased to introduce the work of Steve, the current owner of a small production company in the St. Louis area which was started over 30 years ago by his mother. (One of his ceramic urns was featured earlier in the year in "January's Featured Cremation Urn: Grey Wolf Grace and Power".)
I mentioned Steve was a disabled American veteran in the previous post in the artisan urns series, "Pottery Cremation Urns Made in the U.S.A." There's an interesting and rather ironic twist to his story: after military tours of duty in Iraq and Afghanistan, Steve lost the use of his legs after returning home: a tree fell on him during an ice storm. He is confined to a wheelchair and needs assistance in retrieving the fired ceramic urns from the kiln.
Despite the adversity (or maybe because of it), Steve looks to meaningful and popular themes of strength for many of his beautiful creations, such as the Twin Wolf Urn for Ashes as another example of his work.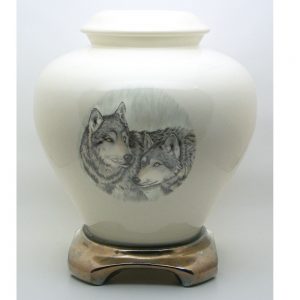 Another widely-popular theme for his ceramic urns is roses. Our Carolina Rose Cremation Urn, featured in the June blog post "Rose Cremation Urns: Pretty in Pink" is elegant in its presentation with pretty pink flowers on a soft white background.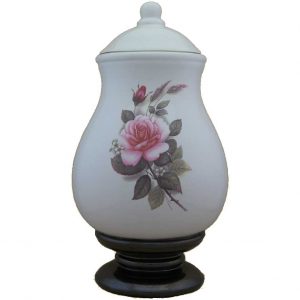 So, here we are at the end of the artisan urns series. As I said before (and will say again!), I'm delighted to offer the work of these five American artisans, each of whom has a deep understanding of the importance of having exactly the 'right' cremation urn for either human or beloved pet.  If you're interested in our artisan urns, give me a call or send me an email. I'd be honored to assist you.