Both feared and revered, the wolf holds a unique place in the mythology and folklore of cultures around the world. For many, the wolf is a sacred totem animal, expressive of a keen intelligence, an ingrained desire for freedom, and a strong connection to instinct.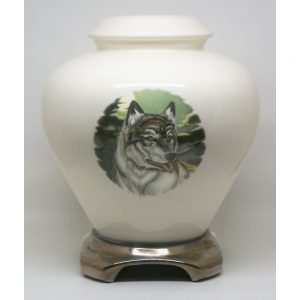 This first month of 2017, we're celebrating the power, beauty, and intelligence of the wolf with a special price on our Grey Wolf Urn for Ashes. This ceramic urn captures the essence of the wolf's character and natural intelligence. Earlier this month we observed the full "Wolf Moon" and were inspired by this ancient creature.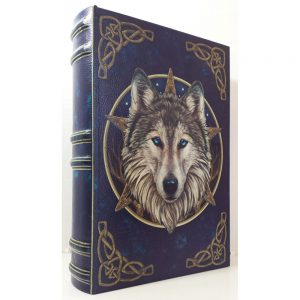 Wolf Mythology
Myths and legends about the wolf abound, many of which attempt to explain the complex relationship we share with these creatures. For example, the Ainu, a people described in Japanese folklore as "indigenous" to Japan and Russia, believed they were descended from the union between a goddess and a wolf.
Then there's the Roman myth of Romulus and Remus, twin infant boys found and raised by a she wolf. (Unfortunately, their story doesn't end happily: Romulus eventually kills his brother before founding the city of Rome. It seems his early years shaped his personality, mirroring the some of the characteristics of a wolf from his early childhood: wild, free, and dangerous.
The Christian Bible has thirteen references to wolves; most often as a means to describe the destructive and greedy nature of human beings. While many see only a dangerous predator (just think of the iconic "big bad wolf" in the fairy tales of Aesop and the Brothers Grimm); the wolf is described in other mythologies as a magical being with the power to protect and even heal.
Urn Garden's Wolf Urns for Sale
These qualities–the wolf's wild, territorial, and protective nature–are beautifully represented in our handmade ceramic wolf urn. We are proud to showcase American artists and this urn is handmade in the United States.  This cremation urn will not only be a beautiful, and deeply meaningful, decorative addition to your home; it will also safeguard the ashes of your loved one for years to come.
Need help or have questions creating the perfect memorial? We can help.