One of our clients called yesterday regarding the death of her daughter. "Do you have any idea how many urns are out there?" she asked. "Yes, it can be overwhelming." I replied. One of the reasons we started the business was the lack of offerings for urns for ashes and cremation memorials. Years later, the market has changed and the choices are endless.
Urn Garden has tried to keep it simple for our customers by offering the styles that families prefer. We don't list every urn made in our catalog. Just the best quality and value that we know people want. We try to stay in season and this month we are celebrating Irish Heritage.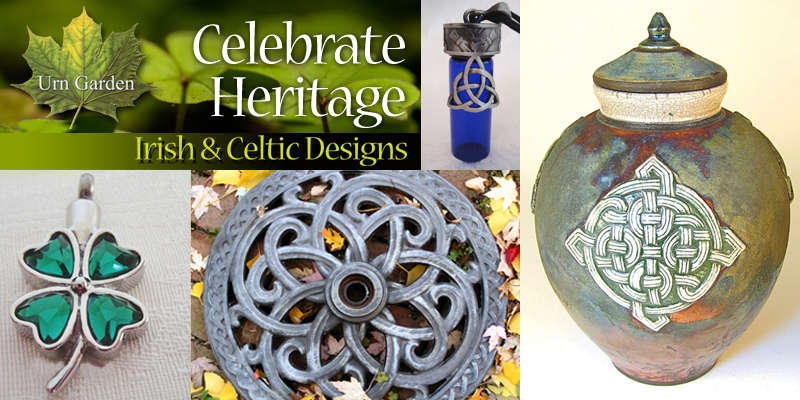 One of our most popular wood designs, this adult urn is crafted by an American artist from solid walnut. Excellent quality and appealing Celtic knots on all sides as well as the iconic Celtic cross on the top.
American Made Celtic Cross Box for Ashes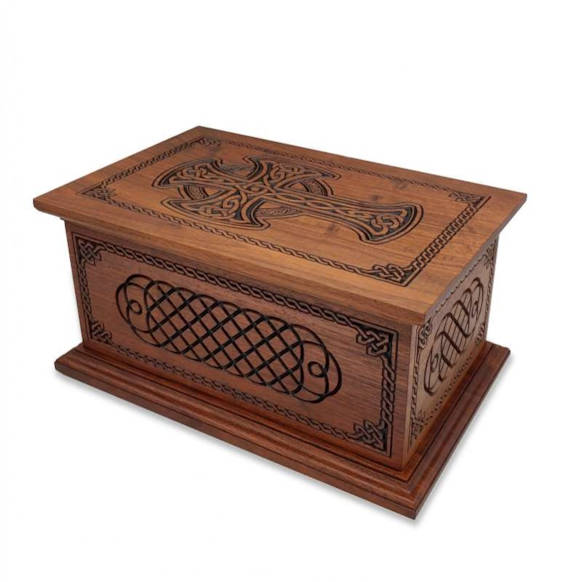 Gorgeous hand thrown pottery with Celtic knot emblem. Rustic beauty, made in America and signed by the artist. This jar works for either burial, a scattering at a later date, or stands alone as a beautiful piece of artwork. This style is limited quantities and if you see it, you have to buy it, because we never know when we'll have more.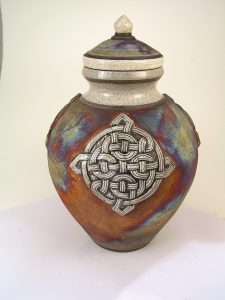 Lucky Shamrock Celtic Adult Cremation Urn
Other popular March memorials are in the Irish theme like this Shamrock cremation urn: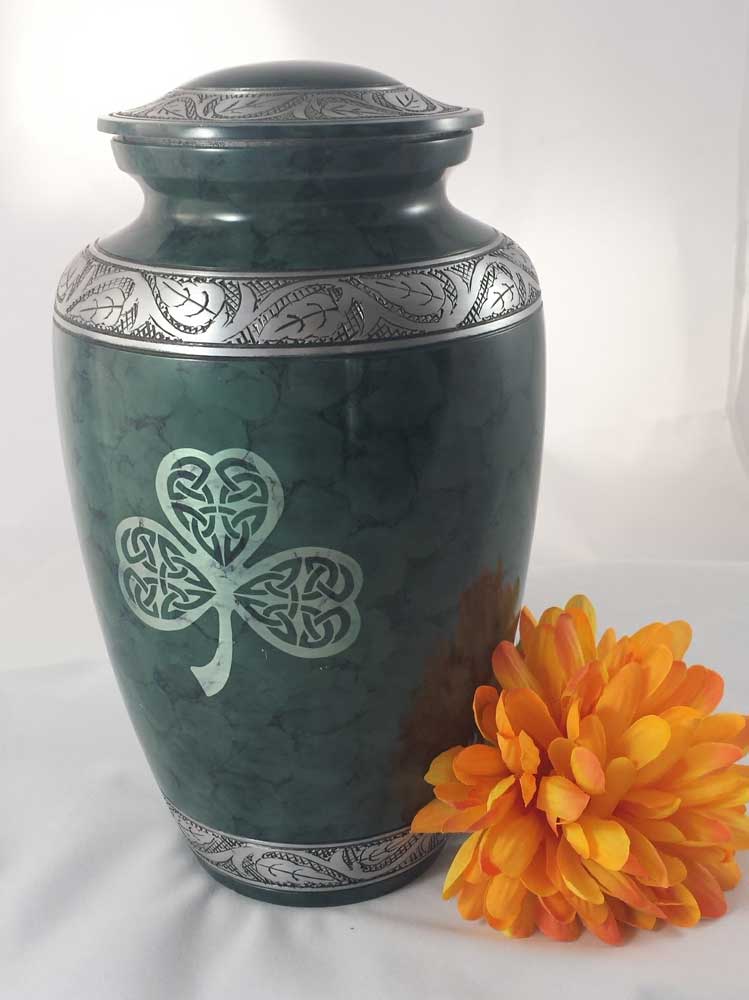 Small Green Heart Keepsake Urn
Emerald green marbled effect with engraved shamrock that can be personalized with names and dates. The three leaves of the clover represent the trinity and have intertwining Celtic knots.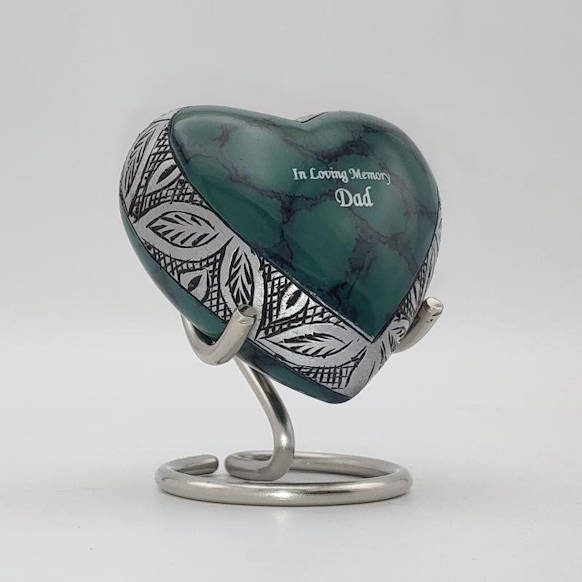 This same urn can be engraved with a Celtic cross for an even deeper spiritual meaning and like the shamrock style, can be laser engraved with a name or verse.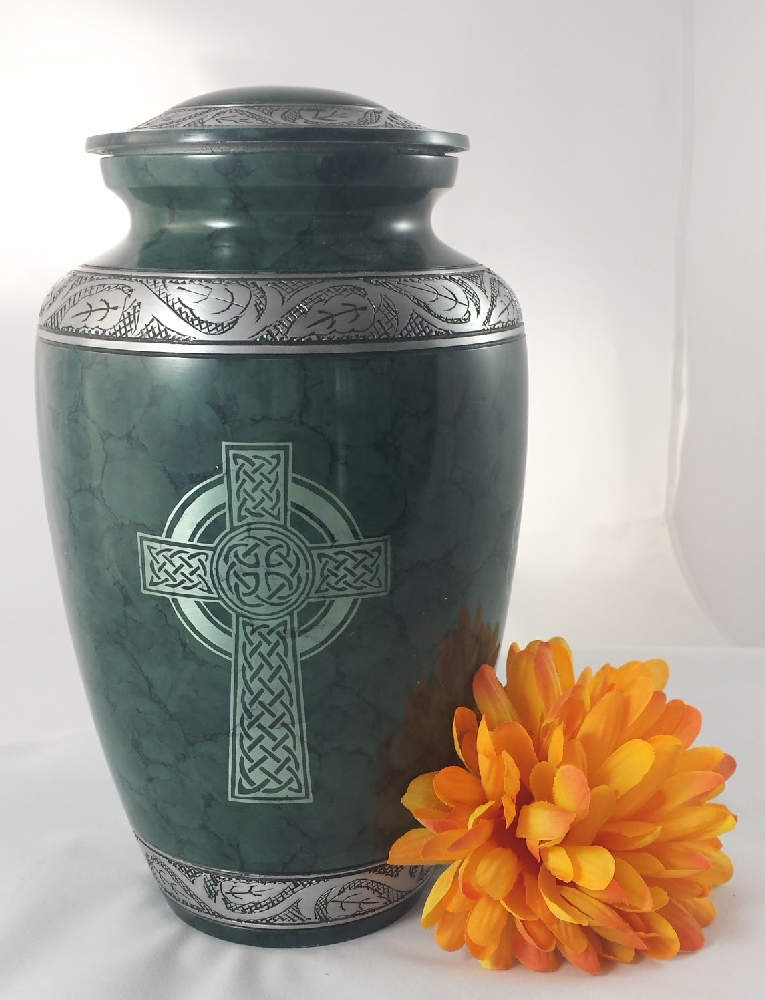 Irish Rose Adult Cremation Urn
The Irish Rose is a deep iridescent green with an embossed rose. Depending on the light, this one changes colors ranging from green, gold, or purple; it also has a matching mini that is sold separately and will store a small amount of ashes if families plan to share.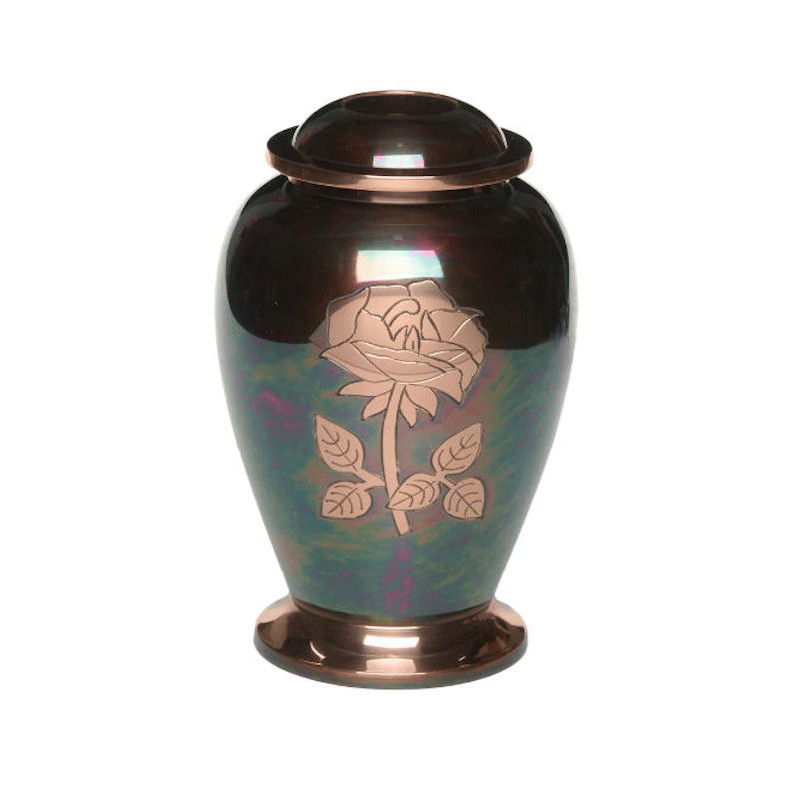 So pretty and would work well for either a male or female, which is true of many of these Irish styles.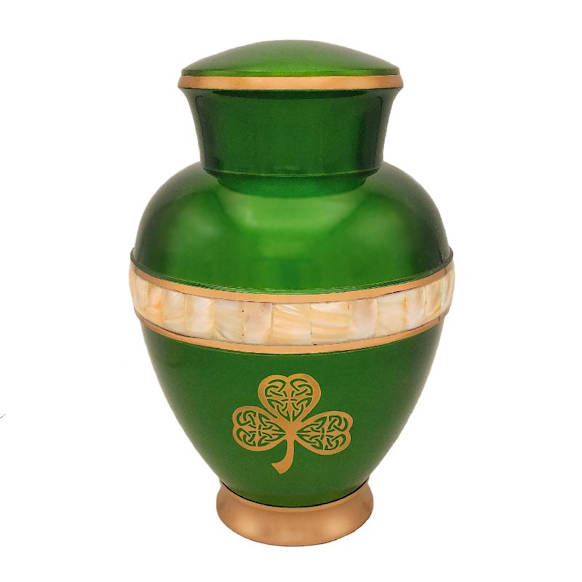 Another version of our Irish shamrock collection, this one is metal with a rich emerald green enamel with a gold trimmed band of glowing mother of pearl.
Celtic Cremation Jewelry
Regarding storage for a small amount of ashes some people like the cremation jewelry.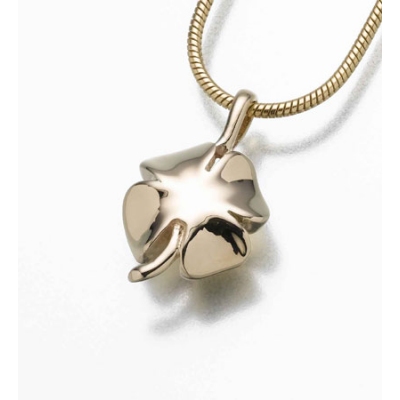 Like the large urns for adults,  pendants come in many contemporary styles in both silver and gold. Clovers, Celtic knots and crosses are designs that can be found in the jewelry line.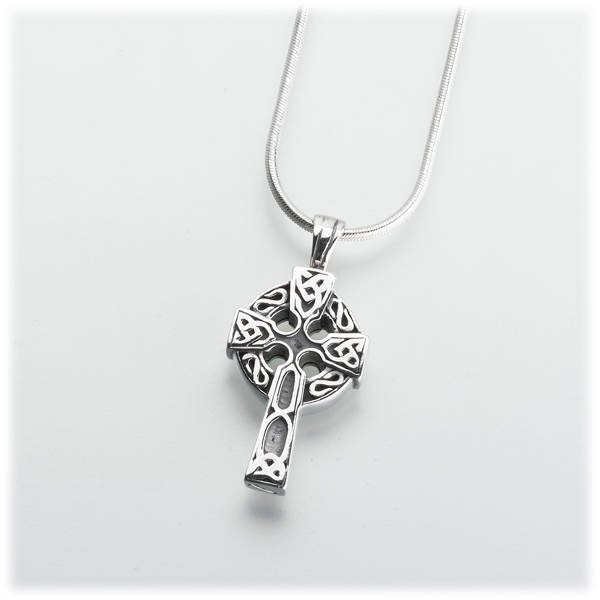 Even though the snow is still falling in some parts of the country, we're thinking about the changing seasons and that spring is right around the corner. Flowers and gardening are on our mind. Small memorial stones that can be tucked into a flower bed, or natural river rock that doubles as an outdoor urn are options for families that want a remembrance outdoors.
The customer was right, it's hard to choose. If you need help narrowing down your selection or have a question. Call us, we'll help you simplify and create a beautiful memorial that honors your loved one.