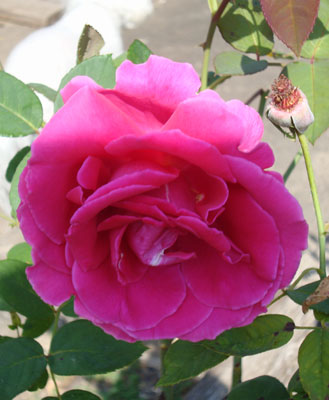 Roses are among the most endearing symbols of love, admiration and appreciation and are used in a variety of occasions from birthdays to anniversaries to funerals. It's a popular choice for families that want a cremation urn to honor a June birth date or perhaps their loved one was named Rose.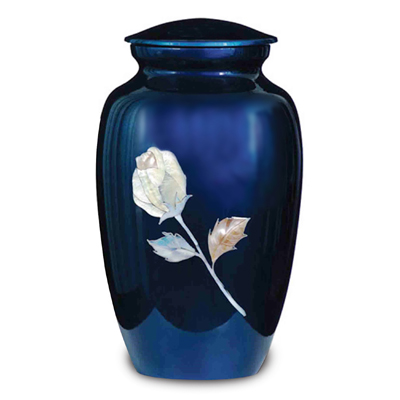 Midnight Blue metal urn with inlayed mother of pearl rose glows against the dark background. So pretty and would work for male or female. Midnight Rose is part of a collection that includes this same style in other colors Irish Rose in emerald green and Ruby Rose.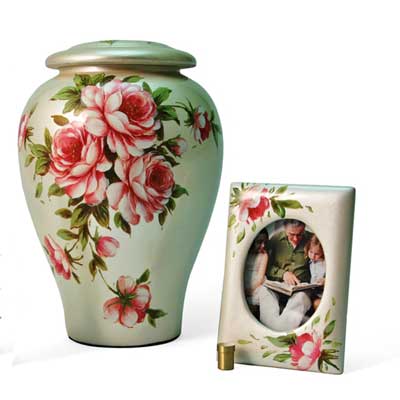 Ceramic urns with vibrant hand painted roses also has a matching photo frame that includes a small capsule to store a tiny bit of ashes or ceremonial flowers to personalize the memorial.
Incorporating a floral sympathy piece like a few long stemmed roses, a wreath, or even a few petals scattered at the memorial service adds a touch of elegance and will exemplify the theme of love.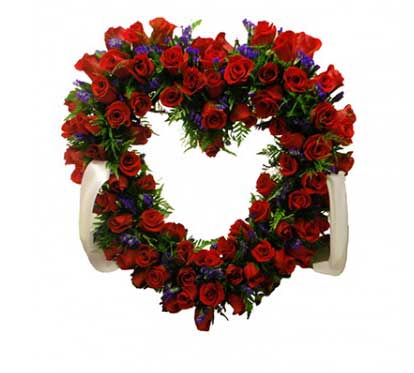 Victorians believed in the language of flowers and that each color has its own meaning and interpretation. Do you know what emotion you are expressing when you choose a rose color?
Roses and their intoxicating fragrance have had a long and colorful history with fossilized evidence dating back 35 million years. However, it wasn't until the 15th century that they started being used as symbolic gestures during England's War of the Roses. Modern-day roses can be traced back to the late 18th century when they were cultivated and introduced into Europe from China.
Rose Colors and Meanings
While there are many variations of rose colors, these are the most popular and their meanings:
Red: Love, affection, romance, desire, courage, passion and appreciation
Dark Red: Deep passion and dying love
Bright Pink: Recognition, gratitude, appreciation and admiration
Pale Peach: Modesty
Pink: Elegance, grace and admiration for sweetness and beauty
Purple and Lilac: Magnetism, majesty and enchantment
Green: Harmony, fertility, peace and tranquility
Turquoise: Fertility, abundance and rejuvenation of spirit
Blue: Mystery, desire for unattainable
White: Innocence, purity, humility, heavenly, marriage and new beginnings
Gold or Yellow: Friendship, joy, good luck, welcome back and remembrance
Yellow with Red Tip: Falling in Love and friendship
Orange: Passion, desire, energy and pride
Black: Sorrow, death, loss, courage, sorrow and resistance
Red Rosebud: Loveliness and purity
White Rosebud: Symbol of girlhood
Sending a combination of colored roses depicts different emotions and symbolism such as:
Pale Colors: Friendship and sociability
Red and White: Unity
Pink and White: Unending love
Red and Yellow: Happiness
Orange and Yellow: Passionate and romantic thoughts
Antique garden roses will usually only bloom once during the season and are always worth the wait. Newer hybrid styles are often smaller is size compared to the vintage species but will flower throughout the growing season.
rose wreath image courtesy of Linda's Flowers