The memorial service for 15 year old Khighla Parks (pronounced Kyla) was held in our area this week.  Khighla was loved in her community and went missing for several days and her body was found by fisherman in Truman Lake. Khighla loved horses and was buried in the cemetery where she used to go for a quiet moment to talk to God.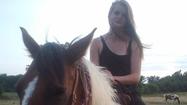 A Celebration of Life ceremony was held and a horse drawn wagon delivered her casket to the cemetery where she was laid to rest. "I don't believe this is goodbye," said the Rev. Scotty Killingsworth. "I believe this is good night, so long, see you later."
A couple of observations about the media coverage. Once again the word "funeral" was never mentioned by any of the outlets covering the event. I understand that the television stations have to make a dollar, but monetizing the video clip of the funeral with advertising seems inappropriate. In fact, the only time I can remember that a news video on one particular station did not have an ad attached to it was for a memorial created for the Joplin tornado victims.
Regardless, we're sending out prayers to the family and hope law enforcement can resolve the many questions and bring peace to the family.