Cremation jewelry is not for everyone. It's such a personal choice that you either love the idea, or….not so much. Not everyone is comfortable with the idea of wearing their loved ones ashes, even a trace amount, around their neck. Keeping it close to the heart? Not going to happen. The idea of splitting up the ashes, sharing them, scattering them is unthinkable and in a way, a desecration the body. The Catholic church thinks so, even though cremation is allowed.
Then there are families who cherish the idea of remembrance jewelry and keepsake urns will order several pieces for family members. While planning a memorial service, one East Coast family invited not only family, but many of the daughters' friends to order jewelry urn pendants if they wanted some of her ashes.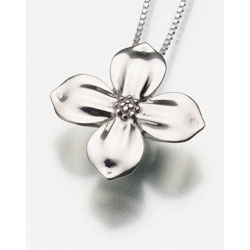 Cremation Pendants have to be worn with care and certain skin types may not agree with the metals. It's NOT a good idea to wear your urn necklace to the gym, like one lady did, and then was upset because she lost it.
With so many choices of urn pendants available, if the family likes the idea of creating a memorial with jewelry then why not? The pendant styles are attractive and discreet, so if you don't want anyone to know, you're good to go.
We're still in love with the dogwood urn pendant, so pretty and perfect for this time of year.