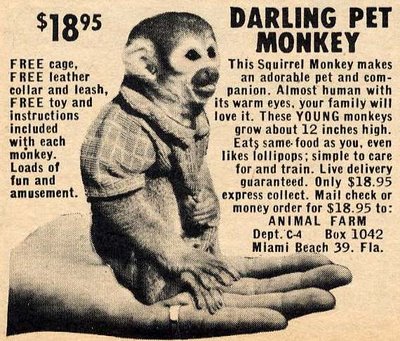 You know I want one.
While some folks get memos at work like this; at the pt job, we've been getting memos on "service monkeys". The gist of the WORD is "NO monkeys in the house, AND if a situation ensues, call security."
And if you travel with your monkey: From the TSA web-site:
Since service monkeys may likely draw attention, the handler will be escorted to the physical inspection area where a table is available for the monkey to sit on. Only the handler will touch or interact with the service monkey.
Security Officers have been trained to not touch the service monkey during the screening process.
Earlier coverage of emotional service animals: May 14, 2006 (airlines grapple with demands to seat large dogs and emotional-support goats)