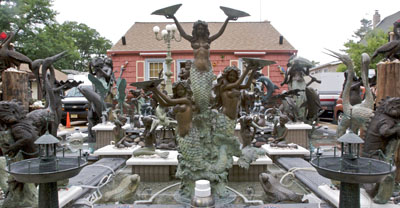 Hey, we're all about the yard art and will probably be one of those old ladies with a yard full of statuary and obstacles to mow around. But this seems a little excessive.
Eccentric twin brothers Gerald and John Hubbs, Paulsboro, PA started erecting a display in their tiny yard four years ago. Since then, they have amassed a collection of 100 bronze figures crammed onto an all-concrete front yard about 50 feet wide. Dozens of finely crafted pelicans, tortoises, grimacing alligators, frolicking mermaids and fountains make up the collection. The house is surrounded by a locked chain-link fence.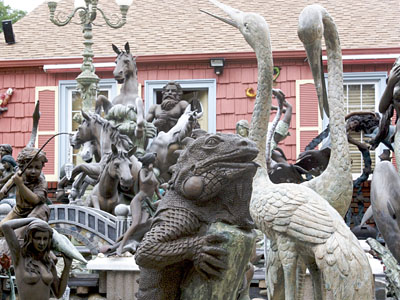 The neighbors love it! Not. When the 59-year-old twins celebrated the Fourth of July by firing ceremonial bronze cannons in their backyard and activated a spiky metal dragon that spit flames, neighbors called the law.
Police charged them with maintaining a nuisance, fireworks violations, and harassment after neighbors said one of the twins screamed that he would kill her if she called police again to complain about the noise.
It is not the first time police have been dispatched to the Hubbs home. Six years ago, their lawn and driveway were dug up by police after their 82-year-old mother, Ethel, went missing. A former girlfriend of one twin had told investigators that she believed they had buried the body and continued to cash her Social Security checks.
A body was never found and the men were never charged.
However, during the search of the premises and a warehouse owned by one of the twins' former wife, police uncovered illegal weapons, including an AK-47, booby traps, expensive jewelry, coins and allegedly forged documents. The Hubbs', chiropractors and former registered nurses, were tried on more than 100 charges and given probation.
Source: Philly.com
Images: John Costello