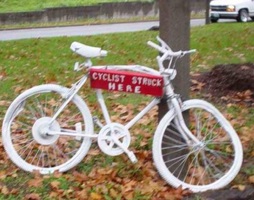 Supposedly, this is the first Ghost Bike, memorializing an accident on Holly Hills Boulevard in St. Louis, Missouri in 2003. It was created by Patrick Van Der Tuin who saw a cyclist hit by a car. A few days later, he and his friends locked up several bikes at locations where he knew cars had collided with cyclists.
A Ghostbike is a junker bike that has been painted stark white and affixed to the site where a cyclist has been hit or killed by a car driver. Ghostbikes are intended to be memorials for the fallen and reminders to everyone to SHARE THE ROAD with one another. Since that first memorial in St. Louis, the meme has spread nationwide.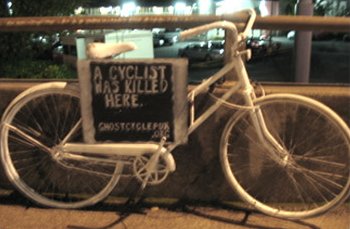 I've never seen one here in the Ozarks, and I hope I never do. But in densely populated areas like St. Louis, Portland, and New York City there seems to be more Ghost Bike sightings.
Check out this wild ride!
Today's Tip: Ride Safe and Share the Road!