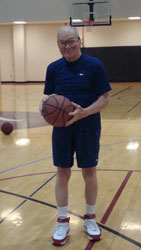 Meet Mr. Owen Hilton.
WWII Military Vet.
Purple Heart.
84.
Works out everyday Monday-Friday. He usually starts shooting baskets about 5:30 in the am.
Takes NO medication, except for: A Baby Aspirin Daily.
Nothing else.
Mr. Hilton is the only 84 year old gent that I know that doesn't' take a zillion pills.
He's a fine Physical Specimen and a nice guy too.