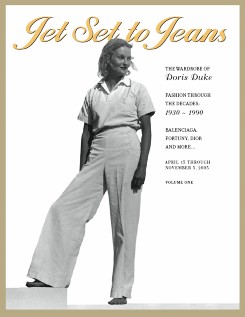 The movie "Bernard and Doris" was on HBO a couple of weeks ago and after watching it, we wanted to find out more about Doris Duke, The tobacco heiress had a $1.2 billion estate that was the subject of much litigation. A New York judge ordered the removal of two co-executors of Duke's $1.2 billion estate. The court found that Duke's butler Bernard Lafferty was squandering her estate to support his "profligate life style" and that United States Trust Company failed to slow down Lafferty's spending.
Duke was cremated 24 hours after her death and her ashes scattered over the Pacific Ocean, Lafferty sent a small container of the ashes to Marshfield, Missouri, a town that Duke had grown to admire during her years as a world traveler. Duke had visited Marshfield during a large tent revival, where she enjoyed the music. Duke's ashes were buried in a local cemetery and a stone was placed to honor her memory. She was locally known as a philanthropist since she often sent large sums of money for various projects, frequently without publicity.
Marshfield, MO?

Here's a sample of her last will and testament:
LAST WILL AND TESTAMENT OF DORIS DUKE
I, DORIS DUKE, a resident of and domiciled in the State of New Jersey, do hereby make, publish and declare this to be my Last Will and Testament, hereby revoking all wills and codicils at any time heretofore made by me.
ONE: A. I direct that there be no funeral service or memorial service of any kind for me and that I be buried at sea.
B. I give my eyes to THE EYE BANK FOR SIGHT RESTORATION INC., New York, New York, and I hereby ratify all that anyone theretofore may have done toward carrying out this gift.
FOUR: A. The following loans were owed to me as of August, 1991:
1. DR. ROBERT NIXON: Fifty-Eight Thousand Dollars ($58,000)
2. ELEANOR LAWSON: Sixteen Thousand Five Hundred Dollars (516,500).
3. FRANCO ROSSELLINI: One Hundred Fifty-Eight Thousand Dollars ($158,000).
4. VERA CYCKMAN: Ten Thousand Dollars ($10,000).
5. EDWARD LEIATO: Thirty Thousand Dollars ($30,000).
6 RAPHAEL RECTO: One Hundred Thousand Dollars ($100,000).
I direct that, to the extent that these loans shall be outstanding at the time of my death, such loans shall be forgiven.
B. I direct that my Executors make reasonable arrangements with IMELDA MARCOS (or the legal representatives of her estate, if she shall not survive me) for the repayment of the Five Million Dollars ($5,000,000), plus accrued interest, that I loaned to her pursuant to a demand note dated March 6, 1990, such repayment to be made when Mrs. Marcos and the Philippines government settle their financial dispute or at such other time as my Executors shall deem appropriate in their absolute discretion.
3. If I shall be survived by a dog owned by me and residing at my death at my residence known as Falcon's Lair, in Beverly Hills, California, I give such dog to the caretaker of such property at my death or, if such caretaker is at any time unwilling or unable to care for such dog, to one of the foundations created under this Will or of which I was a member, director, trustee or officer at my death which is caring for other dogs of mine. If I shall be survived by a dog owned by me and located at my death at Falcon's Lair, I give and bequeath the sum of One Hundred Thousand Dollars ($100,000) to my Trustees, to be held by them in a separate trust for the benefit of such dog, with the income and principal thereof to be disposed of as follows:
a. My Trustees, at any time and from time to time, shall apply such part or all or none of the net income and principal of the trust for the benefit of such dog, at such times and in such amounts as my Trustees, in their absolute discretion, shall deem necessary for the care, feeding, comfort, maintenance and medical treatment of such dog, even though any such application or applications may result in the termination of the trust. At the end of each year of the trust, my Trustees shall accumulate and add to principal any net income not so applied, any such capitalized income thereafter to be disposed of as a part of such principal.
b. Upon the earlier to occur of (i) the death of such dog and (ii) twenty-one (21) years after my death, the trust shall terminate. Upon such termination, the principal of the trust remaining at that time, and any accrued and undistributed income, shall be added to my residuary estate and disposed of in accordance with the provisions of Article EIGHT hereof.
Sources: Wikipedia and Court TV