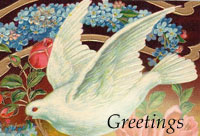 Never have been a fan of embalming, but then I realized I'd never seen embalming done well. Recently, a friend of the family passed after a long illness. At 93, in ill health, she was ready to go, she was worn out.
Before she passed, this once active lady nested on the couch, slept in her clothes and occasionally risked getting up to go the bathroom. You know the story; fell, broke her hip never to recover.
She'd tell you that she was ready to go and didn't understand what was taking so long. She meant it.
Fast forward to the visitation. At the viewing, my grandmother Etta insisted that I go look at the deceased. "Doesn't she look like she could sit up and start talking?" Etta Mae asked. I stepped back; I was amazed by the good work done by Gorman Sharpf funeral home. I'd never witnessed someone who looked better in death than in the last few years of life.
The next day at the burial, I stopped the funeral director, Bruce Howell and praised the firm's work. Mr. Howell sited his nephew and said that sometimes with older ladies that have been ill, the results of embalming and cosmetics are good.
My grandfather, was the worst embalming case I have ever seen. Granted, he'd been gravely ill before he died, however, he would have wanted a viewing and a picture, and I believe my mother obliged him.
The only time I can recall actually needing a viewing to confirm that the deceased was actually gone was in the case of a friend's suicide.
The act was so shocking and unbelievable at the time. The casket was closed and I remember thinking that my friend couldn't possibly be in there. What are we doing here?
Enter Vernie Fountain. Master of reconstruction. He believes the open casket viewing is a critical component in the grieving process. Mr. Fountain is the one to call when damage is so severe that most funeral directors won't even attempt a viewing. Students from all over the world come to Springfield, MO to attend his academy and learn his techniques.
An Iowa family recently used Mr. Fountain's services when their 22 year old son committed suicide by placing a high velocity rifle in his mouth and pulling the trigger. No note. The family needed to say goodbye and try to get through this terrible tragedy.
Fountain came through and gave the family some closure. The family and community needed to see the young man one last time .