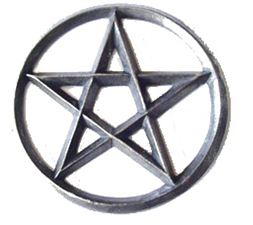 To settle a lawsuit, the Department of Veterans Affairs has agreed to add the Wiccan pentacle to a list of approved religious symbols that it will engrave on veterans' headstones.
Until now, the Veterans Affairs department had approved 38 symbols to indicate the faith of deceased service members on memorials. It normally takes a few months for a petition by a faith group to win the department's approval, but the effort on behalf of the Wiccan symbol took about 10 years and a lawsuit, said Richard B. Katskee, assistant legal director for Americans United.


The group attributed the delay to religious discrimination. Many Americans do not consider Wicca a religion, or hold the mistaken belief that Wiccans are devil worshipers.
"The Wiccan families we represented were in no way asking for special treatment," the Rev. Barry W. Lynn, executive director of Americans United, said at a news conference Monday. "They wanted precisely the same treatment that dozens of other religions already had received from the department, an acknowledgment that their spiritual beliefs were on par with those of everyone else."
There are 1,800 Wiccans in the armed forces, according to a Pentagon survey cited in the suit, and Wiccans have their faith mentioned in official handbooks for military chaplains and noted on their dog tags.
New York Times has the full story.