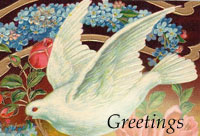 Three Beautiful Things:
Hummingbird scouts
Lush green grass
Finally making a decision
First we go to the mailbox:
"I saw a KISS (the rock group) urn in a movie today. Do you have any idea where I could find one of these or where I could have one made? "
Evidently, the movie Elizabethtown, starring Orlando Bloom & Kirsten Dunst, has a bizarre KISS reference. At one point, a KISS Forever cremation urn makes a brief appearance in the 2 hour film. This might give Gene Simmons an idea for some new KISS merchandise after the infamous KISS Casket..?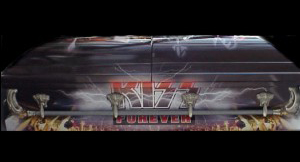 We checked out scenes of Elizabethtown, and lost interest immediately. Bloom and Dunst on their cellphones…in the rain….how romantic. No thanks.
Regarding the urn, so sorry.
Speaking of mail, previously the earliest our mail arrived was around 2 PM. Since the route is on wheels, mail is arriving at 11 AM. This should thrill the Wilhelm's.
Today's tip for better living: Do some push-ups.