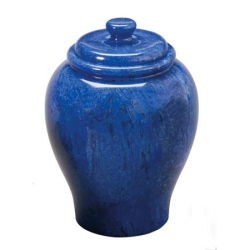 Truth and Friendship blue marble cremation urn is crafted from the ancient stone Lapis Lazuli. Lapis features deep shades of blue dusted with golden flecks of pyrite and sprinkles of  gray or white calcite deposits and takes an excellent polish that shimmers like a star. This stone was a favorite with the ancient Egyptians who crafted it for jewelry, and used the crushed minerals for eye shadow.
Urn Garden customers often choose to have this memorial urn engraved with images of hummingbirds, deer, or other nature scenes along with personalizing the urn with name, dates, or a brief sentiment.

Urn engraving is always a good idea if time permits.  A good engraver does not like to be rushed and depending on the work load urn engraving can take a couple of extra days to process.  The client should be available to approve a proof via email before production begins.
Make it personal and mark the urn for life and keep it in a safe secure location.