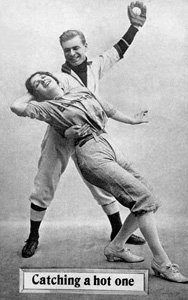 Don't know what it means…..but I like it!
From the Sports Desk:
Springfield Cardinals won game two of the Texas League Playoffs. Colby Ramus pulled it out in the ninth with a home run that won the game.
Go Cards!
Ball Park Sighting: Earlier this summer, one of our team mates followed a fan munching a fat turkey leg into the men's room. Fan bellies up to the urinal, places his snack on top of the porcelain, takes a leak, picks up the turkey leg and gets back to work. No hand washing needed.
Insert visual here.