The ribbon has been a timeless symbol of remembrance and saying goodbye. Before the days of constant status updates and texting, Victorians used ribbon to signify the state of mind.  Naturally, black was used for mourning,  but ship travelers were often sent off with colorful streamers tied between the dock and the boat that would break off and drift into the water as they were departing. Bon-voyage!
We've adapted the more modern ribbon design into a memorial jewelry and funeral urns. Our Remembrance Ribbon urn pendant can be worn as a statement to promote awareness of your special cause, or represent the gift of friendship and love.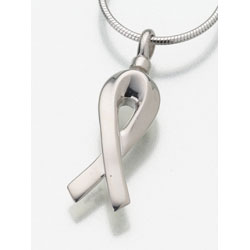 10% of the purchase of the Pink Ribbon urn is donated to the American Cancer Society.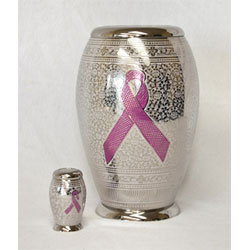 Created in sterling silver and studded with crystals, the Silver Ribbon urn pendant has a secure threaded lid, and includes tools to fill and seal the urn necklace.