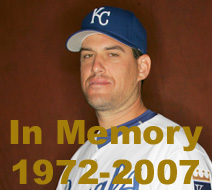 From the sports desk:
Associated Press
July 24, 2007
SAN ANTONIO – Mike Coolbaugh became a coach with the Tulsa Drillers earlier this month not so much for the job itself, but because his little boys loved to see him on the baseball field.
"He had just started," said Coolbaugh's wife, Amanda, who is expecting their third child in October. "We were going to be done with it, but his kids wanted to see him."
Coolbaugh died Sunday after being struck in the head by a line drive as he stood in the first base coach's box during a game in Arkansas. He was 35.
Amanda Coolbaugh, 32, said they planned to wait to find out the baby's sex until the birth. The couple has two sons, Joseph, 5, and Jacob, 3.
According to a report on the Drillers' website, Coolbaugh was knocked unconscious and CPR was administered to him on the field. Sgt. Terry Kuykendall, spokesman for North Little Rock police, said Coolbaugh stopped breathing as an ambulance arrived at the hospital.
The game between the Double A Drillers, a Rockies' affiliate, and Arkansas Travelers was suspended in the ninth. Coolbaugh was taken to Baptist Medical Center-North Little Rock, where he was pronounced dead at 9:47 p.m.