Greetings!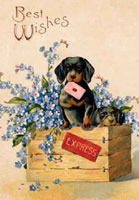 Dirtsister Discovery: Sleeks Garden Gloves. "Sleek", agile, lightweight and airy. Smell the glove.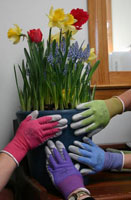 Love the glove.
Local Color: We've met some interesting people from around the world right in here in the Ozarks. Kenny's story.
Profile: 1980's Vietnamese Boat Person. 21 year old Kenny wanted freedom so badly, he was willing to risk getting shot in the back to make his exit.
The goal: America.
California.
In the eighties, he bought the ticket.
In the middle of the night, he boarded a fishing boat with a tiny outboard motor loaded with about 30 people sitting on gas tanks. One spark plug to travel to the land of the free. He left his mother and nine sibs. Two sets of twins! He knew the odds, 70 percent survival, and a couple of years before he could actually enter the USA.
He took the ride.
No protection. No cover, bonnet or tarp on the boat. Kenny nourished himself with a power bar substance. 10+ days at sea. Everybody was sick but still alive..barely. Last tank of gas, they drifted into Malaysia, then arranged passage to the Philippines where he worked for a couple of years before landing in California.
Kenny told me he knew very little English when he hit L.A. American television was his teacher, and he learned the language by watching soap operas. (A popular English as Second Language course) Seems like he said it took him about five to seven years to get his citizenship and raise the cash to get his family to the US. They still reside in California.
Long story short, He would up in Nixa to study a new trade, met his wife, started a family. Bought a home. He loves it here, the crime is marginal compared to L.A., he and his wife are good consumers and love to shop at the mall for name brands and designer clothing.
He said it was a long, terrible journey but worth it.
Would you do it again, knowing the perils?
He was quiet for a moment and answered: knowing what he knows now, he would take the bullet.
Question posed to a local male resident who is the same age as Kenny, "What were you doing when you were 21?"
The answer: "Drinking and whoring around."
Today's tip: Invest in an alternate power supply.