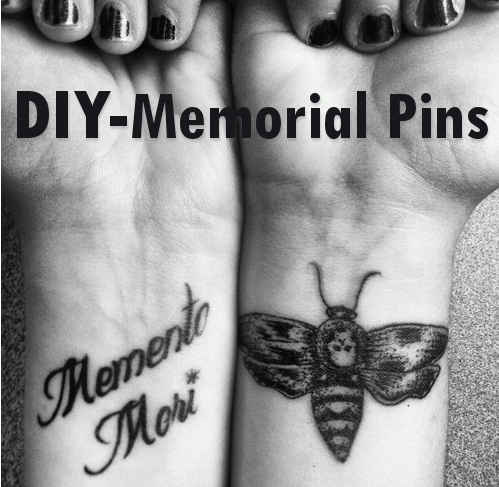 Today, it's back to the Victorians, for a look at mourning pins, a charming tradition in a fascinating collection of memento mori created during this time. And then we're going to put a modern twist on the idea, inspired by a February Curbly post.
My thinking is this: it could be both a healing, mentally-engaging, activity. At some point in your bereavement, your loved one's mourning pin then becomes a DIY memorial keepsake which can be worn on the anniversary of their passing.
What is a Mourning Pin?
A mourning pin is a brooch, worn to signify a person's status as a bereaved mourner. Part of a wide-spectrum of mourning jewelry, back then, memorial pins were usually made of black enamel, but changing the color of the enamel (white for unmarried, virginal woman, for example) or changing the type of precious stone (pearls for children) used in the design added deeper symbolic meaning.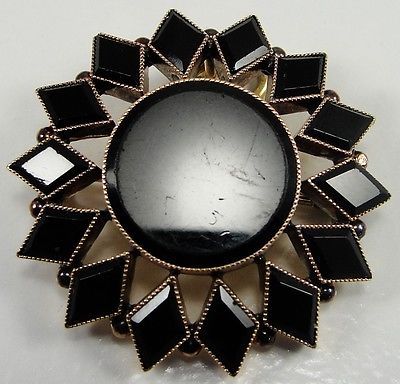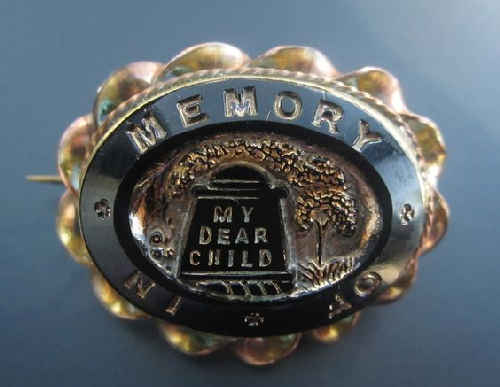 Also, different colors were used to signify the stage of mourning the wearer was in. Someone strictly adhering to the Victorian mourning process, would wear some type of mourning jewelry during the funeral, and then for the prescribed period of deep mourning (2-3 years, depending upon the kinship status between you and the deceased). After a time, photographs were incorporated into the design of mourning jewelry, and mourning pins in particular (Source).
How to Make a DIY Mourning Pin
Certainly, you can buy mourning pins online; I've even found them on Etsy and Ebay. But, if you're one of those people who enjoy arts and crafts, making your very own mourning pin, a wonderful memorial keepsake, could be a fine DIY project in the early days after the death of a loved one.
Supplies You'll Need
In addition to a design template (an oval, rectangle, or circle, maybe even a heart) you'll need the following supplies to complete this memorial craft project:
shrink paper
clutch-back pins
high-quality acrylic paints
fine point paint brushes
a pen or marker
hot glue and glue gun
a cookie sheet lined with aluminum foil
If you're planning to affix 'jewels' to your mourning pin, you'll also need those. Here's a tutorial video which inspired this DIY memorial keepsake idea. The focus there is on Valentine's Day – rather appropriate to this act of love, don't you think? This idea could easily be adapted for a mourning pin.
Here's another idea that doesn't require the shrink paper or baking to make tumbler pins that you could adapt to a memorial theme. This might be a good activity to help your kids channel their creativity to create something both beautiful and meaningful during a dark time.
Once your finished, you'll have a beautiful, meaningful memorial pin that can help you and everyone around you remember those you've lose.
Learn More About Victorian History
It's said the Victorians perfected the art of mourning, In fact, much of what we do around death started with them. For that fact alone, Victorians fascinate me. (You may have noticed Victorian society is a common topical thread running through September's posts. It began with "Celebrity Cremation: Albert Einstein". Certainly, having been born in 1879, in the later years of Victoria's reign (1822-1901) we can add his name to any list of prominent Victorians – although he doesn't fit our image of a Victorian fellow.
The thread remains in Beauty from the Ashes: Blue Cremation Urns, where I mention a leading Victorian woman, who chose to be cremated upon her death in 1927. Do you remember who she was? I'm referring to Victoria Woodhull, the very first woman to run for president. (She was a candidate in 1872, nominated by the Equal Rights Party, which supported women's suffrage and equal rights. You'll never guess who her running mate was: Black abolitionist leader Frederick Douglass. The very idea makes me proud to be an American woman, despite the fact I have few political aspirations.
And how the Victorians handled the advent of cremation was the focus of a fourth post, History of Cremation: Victorian Society's Reaction.  If you would like to discover more about the Victorians: read Victoria Magazine's online article, "House of Mourning – Victorian Mourning & Funeral Customs in the 1890s."