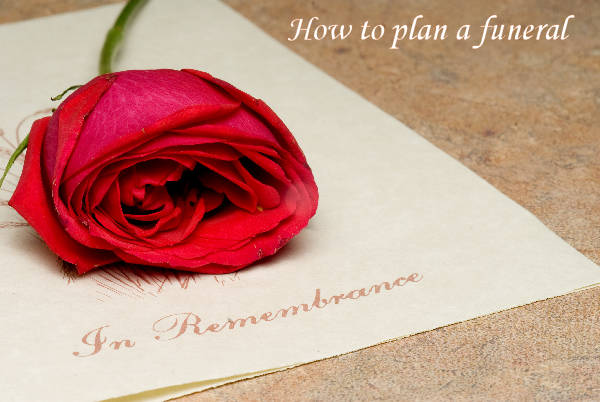 If you've gone searching online, you'll already know there's a whole lot of information about funeral planning floating around the Internet. So what makes this post on the subject any different? Because I'm going to ask you to shift your perspective: think of planning a funeral as being very similar to planning a wedding (except for one major difference: a shorter timeline).
I can see you, shaking your head in disbelief. How can I possibly think the two activities are similar? First is the fact that each event is a rite of passage marking a shift in social status for everyone in the room: surviving family members, friends and,  most notably, the deceased).  Second is the realization that what makes a wedding special are the same kinds of things that make a funeral special (the location, the décor, music heard, the words spoken, the new memories forged and the old memories shared).  Can you see the similarities now?
The First Step in Planning a Funeral
It's the same as with a wedding: you want to set your budget.
What can you expect to pay for a funeral in 2018? According to the National Funeral Directors Association (NFDA), the average "cost of a funeral with viewing and burial" two years ago, in 2016, was just over $7,000. If a vault is included, something that is typically required by a cemetery, the median cost is $8,508. The cost does not take into account cemetery, monument or marker costs or miscellaneous cash-advance charges, such as for flowers or an obituary." (Source) If you think that's high, compare it to the median cost of a wedding in the U.S. which, in 2016, is $35,329. (Source).
The Second Step in Funeral Planning
Start a list of all those people you'd like to attend. This is also the point when selecting the pallbearers takes place (if they are required).
Make the decision about how guests will be invited. Will it be by phone, email, snail mail, or social media (like Facebook)?
As I said earlier, what makes both a wedding and a funeral memorable and meaningful are the location, the décor, the music…all those "little things" that add up to 'something special'. Let's look at each in turn.
The Location
When it comes to selecting the location for your loved one's funeral, chances are good it will be held in the funeral home (or church) of your choice; but it doesn't have to be. If you are thinking of an alternative location–such as your home–you'll want to bring that up to the funeral director in charge of your loved one's care as quickly as possible. (Does a 'home funeral' sound appropriate? Learn more about home funerals by visiting the Home Funeral Alliance website.)
I would like to make a suggestion here: if any of the anticipated guests are physically disabled, make sure the location is suitable for their needs. There are dozens of horror stories I could share about poorly chosen venues.
Flowers and Music
It's my opinion flowers are an essential part of any funeral; not just because they're beautiful, but because "flowers can have a profound positive effects on our emotions", thereby actually easing the suffering of mourners. (Read more here: "New Research Shows Flowers Help Emotional Well-Being").
I know funeral flowers can be expensive. If your budget doesn't allow for the purchase of floral arrangements, think about asking guests to bring a bouquet to the service. You can provide the vases for display, or ask guests to bring one (preferably one that doesn't have to be returned).
I don't know about you, but music is a very big part of my life. If I were asked what songs should be played at my funeral, the list would be a long one. If that's also true for your deceased love one, selecting the 'right' music could be time consuming. (Here's a good time to involve others in the funeral planning process). If you have absolutely no idea what music to play at your loved one's funeral, tell your funeral director. He or she will, no doubt, have lots of good suggestions.) Here's another suggestion: check out our post, "10 of the Most Popular Modern Funeral Songs".
Choose an Officiant
Who would you like to be the "master (or mistress) of ceremony"? It could be your clergyperson, the funeral director, a family member, friend…or certified celebrant. (If you're unaware of celebrants and what they can do to make a funeral both memorable and meaningful, check out the Celebrant Institute and Foundation website.)
Create the Order of Service
With the help of your selected officiant, you'll develop the 'timeline' of the service: what will happen first, second, third…you know. If you plan on what is called a "traditional" funeral, the order of service could look like this:
Musical Selection
Introduction / Words of Welcome
Prayers
Scripture Readings
Musical Selections/Hymns
Formal Reading of Obituary
Eulogy/Life Tribute
Brief Informal Tributes
Thank you and Acknowledgements
Viewing of Deceased
Closing Benediction
You may want your loved one's funeral to be less traditional and less focused on religion. If that's the case, the order of service could be:
Welcome Message
Opening Music
Readings
Additional Musical Selections or Formal Readings
Eulogy/Life Tribute
Brief Informal Tributes
Moments of Silence or Meditation
Thank yous and Appreciations
Exit/closing music
Design a Memorial Folder
Think back to the wedding scenario. Many times a memento is given to each guest – you know, the Jordan almonds? In funeral planning, it's the memorial folder or program. It usually features a picture or pictures of the deceased, a special poem or prayer, and the order of service, as described above. (There are many online vendors for memorial folders, companies like Elegant Memorials.)
This may sound like a lot of work – but you don't have to do it all by yourself. Chances are, there are family members and friends who are just waiting for you to ask them for help. Let them; their involvement could prove to be very valuable! And don't forget, one of your best allies in funeral planning is your funeral director of choice. He or she will support you in making informed, rational decisions in planning a loved one's funeral.