By:
Kim Stacey, Certified Grief Counselor
The Internet is an amazing resource; but I suspect you know that already. And you probably already know sometimes you find a treasure there–like this book, when you least expect to!
That's exactly what happened to me the other day; this treasure was buried deep in the National Funeral Directors Association Product Catalog. Naturally, I made a digital U-turn and headed to the book's Amazon sales page for more details. (Like I said, isn't the Internet amazing?)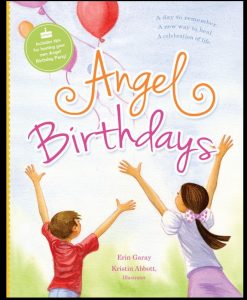 Written by Erin Garay and beautifully illustrated by Kristin Abbott, "Angel Birthdays" chronicles a true life story: Erin lost her mother in 2008 and responded by creating the healing event detailed in the book. And it's not just a well-crafted story – written in rhyme, by the way–it's also an instructive guide to celebrating the life of a loved one's "Angel Birthday". Such a kinder, more positive phrase than "death anniversary", don't you think?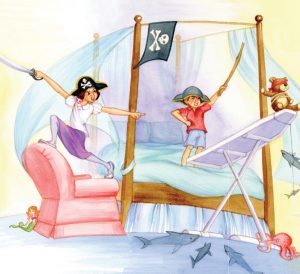 The story opens playfully – and Kristin's illustration captures that sense of childhood fantasy even adults can appreciate:
Gracie the Pirate shouts, "You'll never be free!"
This swashbucklin' day begins out at sea,
A holler from Jake, "To the plank, ye shark bait!"
A brother sure makes for a mighty First Mate."
 But play is left behind when mom breaks the news of Grandma's passing:
"God made your Grandma an angel today
So that makes today her Angel Birthday."
Their reaction is as you'd expect: disbelief and dismay:
"We won't see her again? Is that really true?
That's just not fair. I don't want to believe you."
 Mom turns the day around when she suggests:
"Now let's make today a day to remember,
A day to cherish a love that's forever."
 And that's just what they do, together. The story of their efforts (coupled with the illustrations), both delighted me and, I'll be honest, brought tears to my eyes. Chances are, you'll feel–and react–the same way.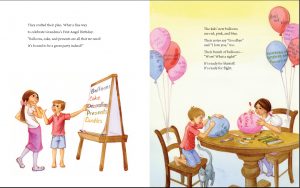 Here's something to think about: every one of the 39 reviews left by Amazon readers gave the book five stars. Readers had nothing but praise for the book, like J&A who, in 2013, wrote "This book is thoughtful and a perfect tool to help during a difficult moment in life. It can be easily adapted to any loss (a parent, a sibling, a dear friend, a grandparent and even a pet). The illustration is gorgeous. Overall, it is a great tool to help process a loss and remember the person forever."
And on February 27th, 2014, Daniela wrote, "This book is amazing! I struggled with how to explain the loss of a grandparent to my young kids. I got this book and the kids immediately took to it. The growth chart was especially helpful. This book has made it easier to celebrate the life rather than grieve over it. Thank you, Thank you, Thank you to Erin Garay for writing this book. I bought 3 more copies to have on hand to give and also to give to family members."
As a parent (and soon to be grandparent) and as a certified grief counselor– a resource like Angel Birthdays,  which speaks to both adults and children, is priceless. In fact, In the review I left on Amazon, I joined in Daniela's gratitude: "Thank you, thank you, thank you, Erin and Kristan; together you've created something wonderful."
There's a companion website, AngelBirthdays.com, where you can learn more about the author, "a speaker, Minister of Consolation, Author and Reiki Master". There's also a "Parties" page, with step-by-step instructions for an event which has the potential to ease the sadness while generating a sense of joy in the hearts of participants. While the party is intended as a children's event, I can see a similar event could be very meaningful (and healing) for adults, too.
Of course, the book is available online at Amazon and Barnes & Noble. In addition to "Angel Birthdays", Erin's also the author of "Healing Your Grief 2 Minutes at a Time: A Healing Journal. If you're a proponent of "shopping local", check out IndieBound.org to find an independent bookstore near you.
For other inspiring ways to celebrate a loved one's death anniversary, check out Urn Garden's recent post, "Twelve Ways to Celebrate a Loved One's Death Anniversary".