Meet a couple of the Urn Garden artists, this is Robert.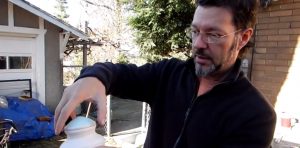 He and his wife Ruth live in the Ozarks, and work together to create one-of-a-kind pottery cremation urns, using a form of the Japanese firing technique, Raku. He works the wheel and throws, she carves and designs.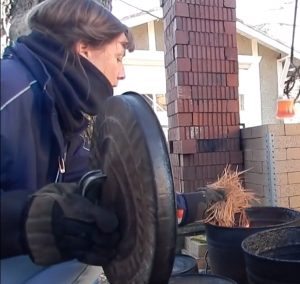 The couple specializes in fine art ceramics, crystalline porcelain and the Raku firing technique. Their work is inspired by nature and their surroundings; inspiration expressed with clay and fire. You can see this creative team in action: check out our video to learn how Robert and Ruth create hand-crafted Raku Urns.
Here's something you may not know: their beautiful Raku urns are for sale and carried exclusively at Urn Garden. You'll find them nowhere else–online or off!
If you're still curious about the Raku firing technique, you'll probably want to read our short article "Raku Pottery Urns" where you can also view a video "The Raku Process".
How Our Raku Urns are Created
It involves removing Robert's hand-crafted urns from the kiln while red hot, and placing each into containers with combustible materials. Once the materials ignite, the containers are closed.
This produces an intense reduction atmosphere which affects the color of a pottery cremation urn as well as altering the color of any glazes used. This secondary process also produces a crackling of the urn's surface. (Source: "What is Raku Pottery?")
Take a look at some of their beautiful, one-of-a-kind Raku urns. I think you'll delight in what you see.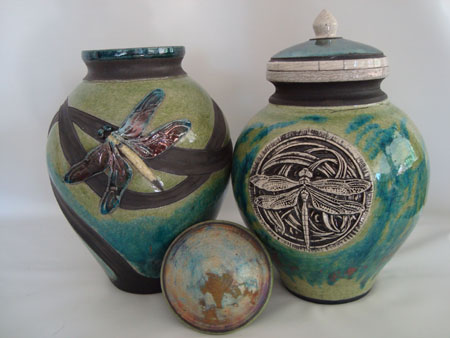 When not creating art and caring for aging parents, Robert and Ruth work professionally in graphic arts and like to go metal detecting. On a recent trip they unearthed artifacts from the 1700s, as well as pre-civil war relics and coins. They're not only interesting; Robert and Ruth are keenly interested in the world around them. I think this focused attention on the natural world shows in their creations.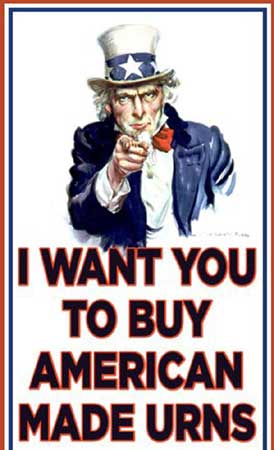 I couldn't be more pleased to be the exclusive source for these extraordinary hand-crafted Raku urns. If you're looking for a one-of-a-kind pottery cremation urn, or want to choose from a selection of cremation urns made in the U.S.A, take some time to peruse our collection of hand-crafted pottery using the Raku firing technique.