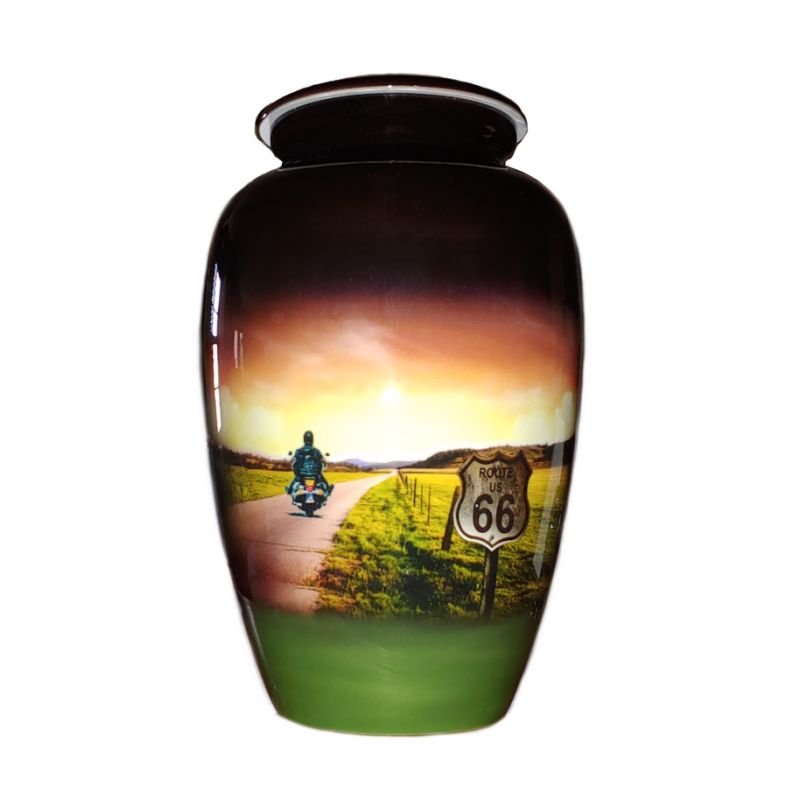 For those bikers and motorcycle enthusiasts who have died, Urn Garden now has a beautiful and memorable Route 66 Road Trip Urn for Ashes. With space for up to three lines of an engraved sentiment, this adult size urn can hold up to 200 cubic inches. Made from metal, it also has a secure threaded lid.
Riding along Route 66 is a lifelong dream for many bikers no matter what part of the country they live. The roughly 2,400-mile Mother Road runs through parts of California, Arizona, New Mexico, Texas, Oklahoma, Kansas, Missouri (its birthplace) and Illinois. It is by far, one of the most popular and scenic byways in North America and people come from all over the world to experience the historic journey.
Motorcyclists careening down Route 66 truly understand the romance of the road. Long rides and days away from the stresses of every day life are what many bikers relish and miss when they are grounded.
Although Route 66 is one of the country's first highways, only about 85 percent of it is navigable today. Most of the road has two- and four-lane arteries and unpaved sidewalk roads. Many local businesses still get their "kicks" on Route 66 by showcasing the highway's famous logo.
Help honor your loved one's memory of his or her rides along the "Main Street of America" with this remarkable and beautifully designed urn.