The late Don Imus mentioned that the ashes of his mother and brother were scattered in the Arizona Superstition Mountains. Not being familiar with this area, the name of the mountains got my attention, and after doing a little research I discovered that it's a popular place for ash scattering ceremonies. My search also turned up this video of a precarious cremains scattering attempt.

Scattering one's cremated ashes from hills and mountaintops is not an unusual practice and your funeral director can help you plan this type of memorial service. Not long after we read about this area, a funeral director from the Superstition Funeral Home called and we talked about the practice of ash scattering. This is something they do for the families that request it and after the memorial, the funeral home presents the family a certificate with satellite coordinates of the location that the ashes were dispersed.
In addition to scattering urns, he told me a popular style at that part of the country is the Sunset in Desert cremation urn.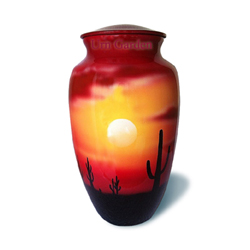 There's a spiritual healing that comes with watching the ashes blow away in the wind while overseeing some of nature's greatest landscapes. Superstition Mountains outside Phoenix, Arizona, is one such location.
Commonly called "The Superstitions," this small mountain range is a growing haven for those wanting to scatter their loved one's cremated remains from a location that was created from an array of natural forces and creates a feeling of mystery and mystique.
History of Superstition Mountains
Superstition Mountains is not your typical mountain range. The welded tuff, breccia, granite, dacite and basalt came together following intensive volcanic activity. Millions of years ago, the volcanoes on this area collapsed and produced depressions. The formations you see today were caused by the thrusting of lava.
Legend has it that these mountains are also the home of the infamous Lost Dutchman's Gold Mine, a very rich gold mine supposedly discovered after 1863 by German prospector Jacob Waltz, who lived most of his life in the mountains. Mine lore states that the alleged treasures originally belonged to either the Peralta family of Mexico or the Apache Tribe following a massacre of Mexican miners. Before Waltz died, he left a poorly drawn map of the hidden mine, which has drawn treasure hunters from all over the world.
While Superstition Mountains is said to be home to the Lost Dutchman's Gold Mine, it is also said to have an Apache Indian curse. Over the years, there have been several "uncertain" deaths and reports of missing people of those who go searching for treasure.
Whether you are scattering the ashes or need to find an urn that works for burial or keeping in the home, we can help.