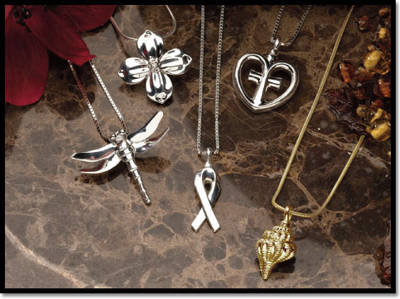 There's no doubt than when a loved one dies, many long to have him or her close to their heart again. One popular choice, especially for women, is cremation lockets for ashes. These delicate and elegant-looking necklaces have pendants or lockets that discreetly hold a minuscule amount of cremains. Some styles also have a space for an image of your loved one to be included.
Lockets for ashes are unique expressions of love and devotion to the person who died. As cremation becomes a more popular choice for people, the demand for jewelry such as lockets, also increases.
Cremation lockets come in a variety of styles and designs. Instead of ashes, many of these cremation lockets can also hold small keepsakes such as pressed flowers, locks of hair or sand from a favorite beach. They come in gold or silver and chains are typically not included. There are also lockets available for pets' ashes as well.
Cremation jewelry such as lockets for ashes also lets families hold on to a piece of their loved ones. Since so many families are mobile and don't stay in one place forever, being able to take a piece of their deceased loved one just makes sense. You can take a locket or pendant with you wherever you go!