Have you ever wondered why weeping cherry trees are called such? Just by the look of them, it could be because their branches hang down to the ground, and when their pink or white blooms fall each spring, the trees look like they are crying — or weeping.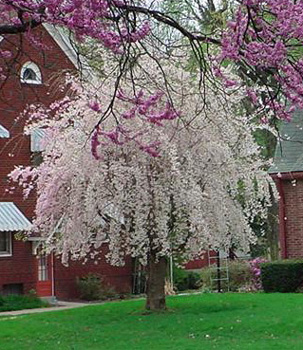 These ornamental trees originated in China but were cultivated in Japan during the 8th century. Weeping cherry trees gained popularity in the United States after World War II when Japan's government donated thousands of trees as a symbol of friendship. Many were planted in the Washington, DC area and are the focus of the National Cherry Blossom Festival each year.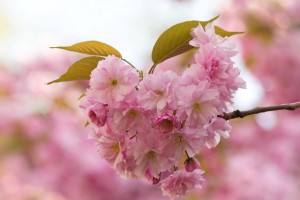 However, weeping cherry trees, much like other ornamental trees, are becoming more widely used as gifts to families after their loved one dies. They offer the bereaved a chance to plant a living memorial and watch as the trees grow and bloom, honoring the lives that were lost. They typically come packaged ready for planting, along with care instructions.
Ornamental trees are grown mainly for their aesthetic value and are traditionally seen in gardens or in large downtown areas where their color and texture bring an essence of beauty to the surroundings. When given as a memorial or funeral gift, these trees provide comfort year-round as opposed to flowers that live for only a few weeks.
If you are planning to give a loved one an ornamental tree as a memorial gift, keep in mind that you will want to present it after the funeral is over. Special gifts such as this can get mixed up with other flowers and plants at the funeral home, and the bereaved person may not realize what he or she received.

Another good gift idea is a memorial marker to dedicate the planting. You can order a stone with the loved one's name, dates, custom art work, or a brief personal message inscribed on a small or medium size.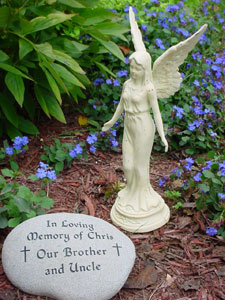 It will look more natural and mark the sacred spot without looking like a grave marker. The stones are quarried here in America and weather well.
You will also want to make sure the tree is indigenous to the climate in which it will be planted. For example, a weeping cherry tree may do well in most areas of the United States except perhaps in the desert region of the Western states.