It's not uncommon for families to buy an urn years later after the cremation has occurred. There's no need to be embarrassed or ashamed if you've been storing the ashes for awhile. Solutions are available and sometimes it takes time to  to make such an important decision. You'll know when the time is right and when you are ready for closure.
If you have the plastic container that you picked up from the funeral home and are ready to transfer the ashes to an urn, your funeral director can help. Urns are available that will contain the temporary container and all you have to do is slip the box of ashes inside the urn. Often these urns are wooden and can double as a memorial chest. Engraving can be added if you want the name and dates of your loved one identified.
Here are three styles of urns that use burl wood. Burl can be difficult to work with as it's gnarled and rough. But after the wood has been sanded the ring patterns that are created are a work of art.
The Blonde Burl Wood urn is sleek highly polished vessel that will contain the temporary container.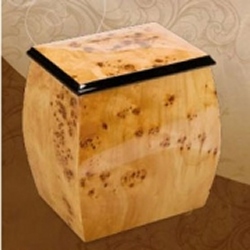 This locking memorial urn uses burl as a trim for the lid and has a lift out tray for storing mementos.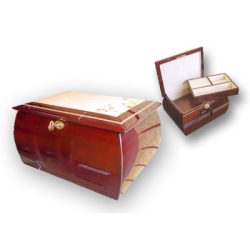 Another choice would be a memorial chest without the tray. This urn travels well if you need to have the ashes shipped from the funeral home. For someone who might be scattering ashes and want a small memorial chest to store papers and other valuables after the ceremony, this style might also be a good choice.
Any three of these urns would make an affordable memorial and can be purchased for less than $300.00