It's an election year and in addition to the hot air blowing, there's lots of flag waving going on. The greatest generation is passing and the last couple of years we're serving families that are losing loved ones in Afghanistan,  the armpit of the world.
For the families that want to preserve the flag that they receive at the memorial service and maybe display medals or other memorabilia the Presidential Flag Case is an impressive three piece set designed for families that have chosen cremation.  Crafted from solid walnut or cherry woods, this collection is intended for display, but could be used for burial as well as the base is an urn for ashes.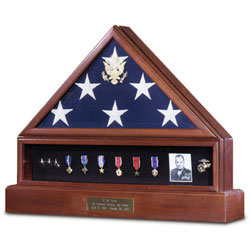 The reality is that you can go to your local hobby store or discount chain and find an inexpensive flag case. Look at the quality.  Turn it over and note the made in China sticker. If this doesn't matter to you, then buy it. If you prefer solid wood construction, secure storage for flag preservation and American made goods for your veteran then check out our line of flag cases. You will pay more but consider it an investment in your country.
When he was home, he liked being here. But the last time, he told his dad that he should go back early because he wanted to take care of the soldiers in his unit. He wanted to teach them. He wanted them to grow as he had grown. — Soon Lim, mother of Daniel Lim.
Lim was one of four soldiers killed July 24, 2011 at Qalat, Afghanistan, according to military officials. The men were fatally wounded when insurgents attacked their military vehicle with an improvised explosive device.